Now, while Chicchantal was trying not to go base over apex in Epping Forest, I was trying to do what proved to be an over ambitious attempt to suss out a walk between Amersham and Chesham in Buckinghamshire. It hadn't occurred to me (duh) that a Saturday before Christmas, was maybe not the best time to undertake a journey that included three changes on the tube in central London! In the end I admitted defeat at Baker Street station, when there wasn't a train even listed and went home!
BUT... yes I am wittering, but I will get to the point I promise, the first step of the journey was to get to Morden on the bus. Now I am not good in crowds, and the bus which takes the direct route was packed, so I took the little hopper bus, which ends up in the same place, but winds in and out of the streets, and takes 15 minutes longer, so is always empty. We hit traffic and crawled along, and I had a close up view of a park that I never knew was there, and its a nature reserve, so I thought I'd go and have a closer look today.
I started at the lake, this is man made, but its been there since 1763, so it's pretty mature.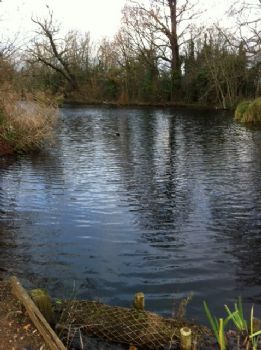 I would have liked to have said that it was a peaceful idyll, but the gulls screaming, vied with the parakeets screeching, to create a cosmopolitan London atmosphere that was unique! Especially when they decided to mob a lone cormorant, that was perching in a tree! And what trees they were.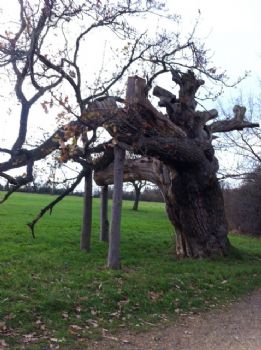 I would think this chap was well grown when Bonny Prince Charlie was looking for an oak to perch in, and an acorn when Cromwell was having his little do. Because its a nature reserve, dead wood is left to rot for the wildlife, old trees are made safe, then left to their own devices.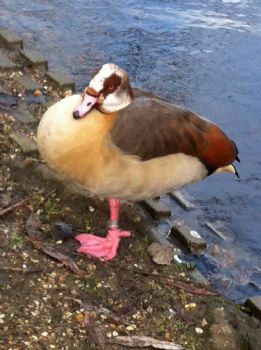 This goose was keeping an eye open in case I produced a sandwich, but he was disappointed.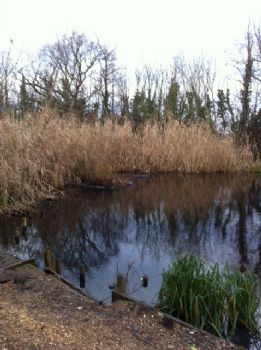 At the end of the lake was a reed bed, a haven for birds in the summer I should think, then the path swung left into woodland. It was very muddy, and surprisingly deserted for a Sunday morning, but I pulled up my big girl knickers, and adjusted my orange belt, and carried on.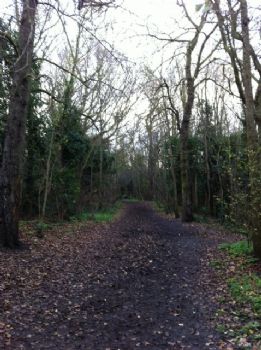 Now I don't suppose the whole reserve covers more than a couple of square miles, but because the paths wind in and out, and the trees are quite thickly planted, if you take an estate agents eye to it, and ignore the houses faintly visible on the left, and the allotments vaguely seen on the right, one could almost pretend to be in primeval English woodland!
Suddenly you come out of woods, into what in the summer, is a meadow. Another huge old oak tree stands in the middle, and you can see that you're back to nearly where you started.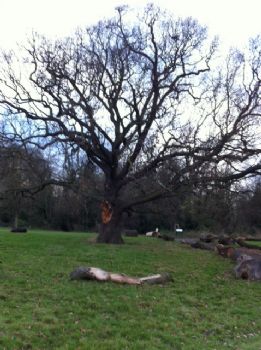 I've lived in this area all my life, and never knew this was here! A stones throw from Morden underground station. It won't be long before I go back again.