Saturday, December 08, 2012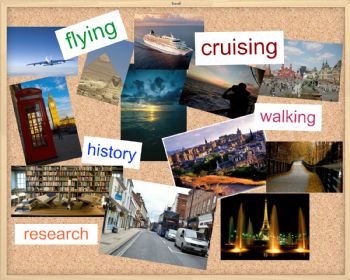 Thanks to Oprah's online "dream board" creator, I now have two vision collages. And wouldn't you know that the first one I was inspired to create was all about travel.
Not too surprising considering that much of my "Why" behind all of my goals has to do with travel ... fitting more easily into airplane seats and being fit enough to walk for miles in places around the world to name just two.
After I retire I want to be able to travel the world ... Great Britain, France, Italy, Germany, Switzerland, Australia, and New Zealand are at the top of my list. I've been to Great Britain (primarily England) many times and London is my favorite city in the world. I went to Paris and Rome briefly in 1979 so it's way past time I visited again, and this time see more of the rest of France and Italy.
And I plan to go to the Family History Library in Salt Lake City at least a couple of time a year. I've been there several times and could happily spend a week there at a moment's notice, cranking away at a microfilm reader.
But underlying all of these travel goals is my goal to be fit enough to really enjoy myself on the way as well as while I am wherever I traveled to.
That's my WHY!