Yikes, the last couple of days got away from me, even though I had intended to post this next section of our hike earlier - ooops! But better now than never so here it goes. After we took a good look at the Alakai Swamp trail heading down, we went back to the main road and started hiking a bit further to see Kawaikoi Camp. It was about 1/4 mile further, maybe a little more, and is a very nice camp. Here's the entrance sign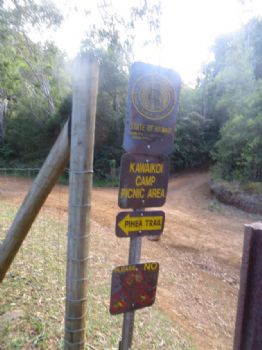 This was such a great campground, I really wished we were going to camp there for the night - I also couldn't help but think HOW MUCH my dogs would love it there, especially Moani who would adore having a gigantic 'yard' to run around in - yes, this campground is fenced most of the way, presumably to keep out the wild pigs, although there were a couple of openings where they could get through if they wanted to.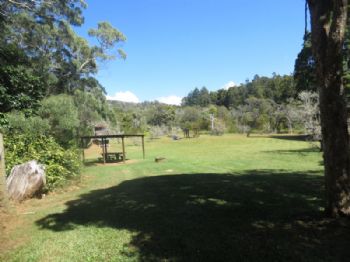 There are also some covered picnic tables and the one closest to the road had a little protected area in the bushes that would be perfect for a tent. With its close proximity to 'the wettest place on earth,' Mt. Waialeale, you really need something to protect your tent from the rain if you're camping. We've been in heavy rain in this area including one storm that had 12" of rain in less than 4 hours - yep, trying to walk through that much rain is a little like swimming. So imagine, if you will, being in an ordinary tent with that much rain coming down....and you can see why having heavy brush to help deflect the rain would be helpful [to say the least]
At the back end of this campground is the trailhead for the Pihea Trail - we hiked 'the other half' of this trail from the main paved road down to the Alakai Crossing, where the Alakai Swamp Trail meets this trail. We would like to hike down this half and back up the Alakai Trail [or vice versa] someday.......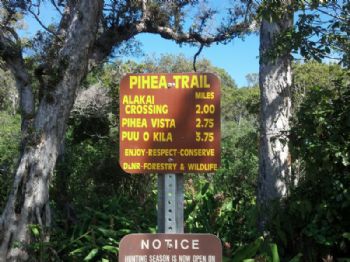 Like the Alakai Swamp Trail, the Pihea Trail drops quickly - you can see a little bridge they built here to cross the stream.
Here's another look at the campground - by the way, some of the picnic tables have a covered area more than large enough for most tents under the roof - good deal! Another neat thing about this and all the other campgrounds we've seen in Kauai is that they are wheelchair accessible! This is a little amazing to me as so few California campground are 'accessible' but from what we could see, Kauai has made sure nearly everything is accessible for people with mobility challenges - good for them!!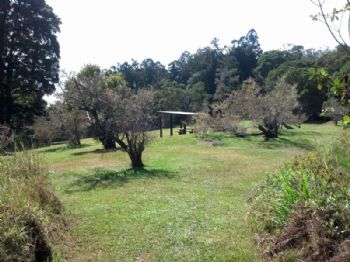 If we had walked down this road a little further, we could have taken another nice trail by the Kawaikoi Stream but I was already about 'half-tired,' which is my signal to turn back so I decided to do this another time, especially since it went downhill from where we were - and you KNOW that means going back uphill to return, haha - at that point I wanted to be sure I could get back to the car without a rescue helicopter [joke!!] so we'll just have to explore the Kawaikoi Stream Trail another day.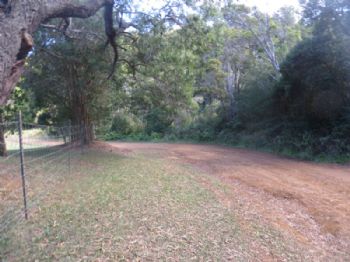 So we headed back the way we came and as often happens, the trail looked a lot different walking in the opposite direction. Why is that anyway??
We went a little further down the road and I did recognize this part.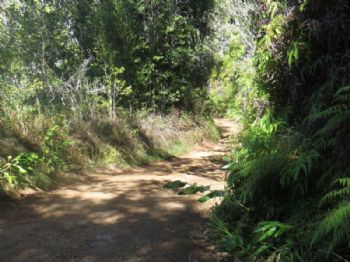 And almost as if there was some pre-arranged signal, we heard that same car coming back - the funny part is that this was exactly where we were when he passed us going the other way! Very odd coincidence, I thought!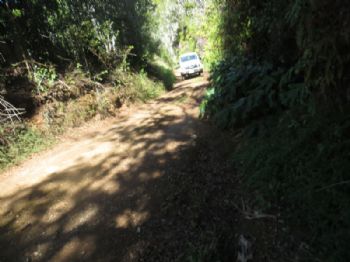 Before too long, I looked back and could see where we had been - the little 'dark bump' on the skyline is where we had our lunch!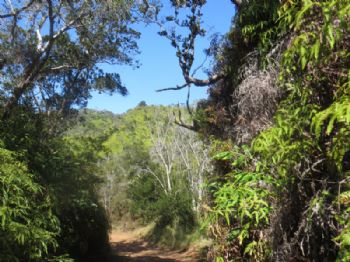 We enjoyed the flowers and grass along the side of the road - there was actually quite a bit in bloom on both sides of the road.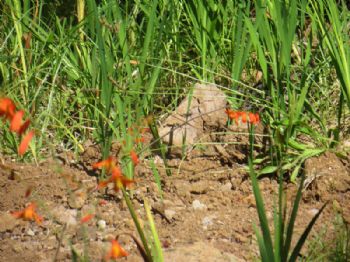 While hiking back and looking at this hill, which we had to go over before we could reach the car, I started thinking maybe I should have flagged down that state worker for a ride back....hmmm, too late now!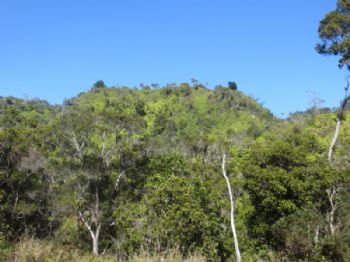 Tom hiked ahead a little bit here - this is also a good look at what the bridges look like on this road. They're made out of metal and are open, presumably to let the mud and water fall through, but walking on them gave both of us the weird feeling it might cave in right under our feet - the bridge was certainly strong enough but the slats are narrower than they look in the picture and it just 'felt' fragile!
We did enjoy hiking along Mohihi Road even though the temperatures that afternoon were in the mid-80s - a tad warm for hiking, IMO.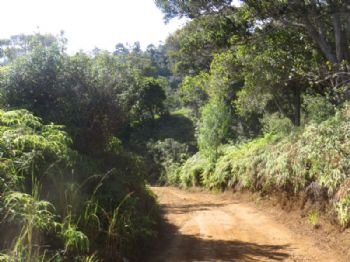 We sure enjoyed the shady sections!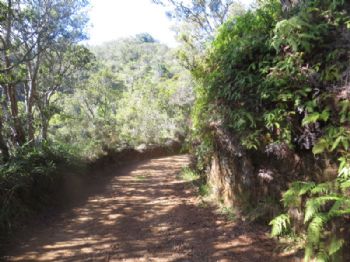 The thick forest was always very close to wherever we were walking.
We ran into a group of Stanford students and a couple of professors who were on a two-week field trip studying the habitat and various environmental factors - what a great class to take!! They surprised us a little by filing out of the forest on this little side trail - altogether, there were about 20 people, all the students carrying their little notebooks and writing things while the professors pointed out this and that. interesting!!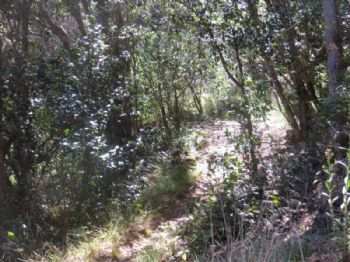 Tom got ahead of me again, partly because I kept stopping to take pictures, haha!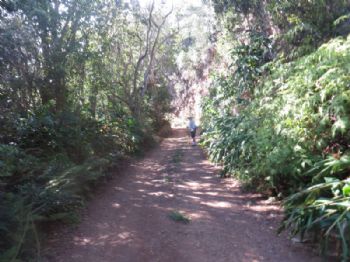 And here's a picture of me, just to 'prove' I was really on this hike in case you doubted it for some reason!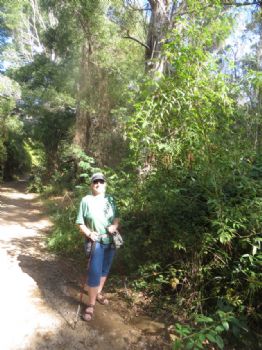 And there were tons of things for me to take pictures of - here is some lantana.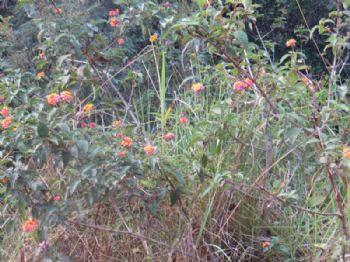 And lots of berries, too!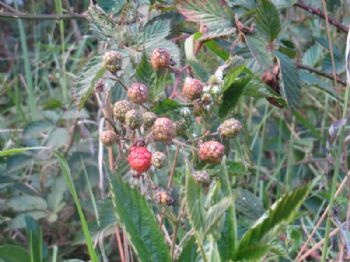 As we crested the hill, I took one last picture looking back across the canyon to the area where we had lunch - wow, it looks so far away....makes me wonder how I ever hiked that but at the same time, it didn't seem THAT hard - although I have to admit I was getting tired by that time.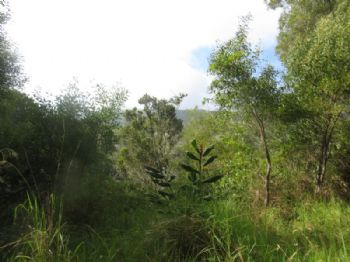 Tomorrow, I will post some pictures and tell a few stories about Tom's family's cabin up there in Kokee, which is actually on Mohihi Road right by where we parked our car. So for now, I'll just close this blog with one more picture of a beautiful kahili ginger flower!