Friday, December 07, 2012
December! How did we get here so fast? It seems like just yesterday I made my list of monthly resolutions and now I need to start a new list for 2013? Unbelievable!
Novemberís resolution was to do a Spark Video every day. As much as I love all of the videos and as handy as they are, Iím sad to say it just didnít happen. But that was mainly because I was using my fairly new gym membership and taking advantage of the classes there Ė Cardio Resistance Training, Spinning, Yoga, Strictly Strength Ė just to name a few. I also had the really awful cold/sinus infection deal going around at the beginning of the month and it knocked me on my booty for a solid week and then hung on just enough to be annoying the following two weeks. Itís a wonder I got any exercise in.
Decemberís resolution is to enjoy and embrace the holiday season. In the past, due to family conflict, I have always dreaded the holidays. Last year I never got around to putting up any decorations since I was finishing up my MBA and then promptly got sick with a cold and by then it just didnít seem to be worth dragging all of the stuff out only to have to turn around and put it all right back. I havenít been able to put my decorations up just yet but hope to soon! My sonís one year old Black Lab puppy is still living with me. The combination of a Christmas tree with hanging ornaments and Daisy would not be a good mix. Sheís sweet, entertaining and I love her dearly but Iím ready to be down to one dog Ė my Noel Ė and itís time for my son to take responsibility. Heís been moving into a new place and my fingers and toes are crossed this is the weekend she can go to her new home to live with her rightful owner.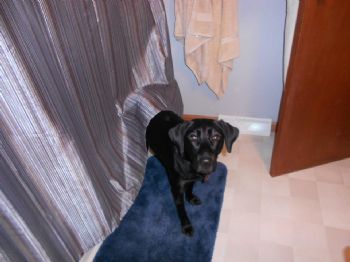 Decorations aside, I am embracing the holiday music which is everywhere instead of immediately turning the channel or tuning it out. I started my shopping early and am almost done. Iíll plan an evening of holiday movies or shows and do my wrapping. I may try to bake some cookies that I found on Pinterest but Iím not going to worry if I donít make that happen. Then after Christmas I hope to pick up some holiday decorations Iíd like to add but when they are trying to give them away! Then Iíll be ready for next year!
Happy Holidays to everyone and safe travels to all!