So I have been feeling great this week. We've had A LOT of parent meetings. Our parent teacher conference night is next week and I am already booked PLUS kids haven't even received their interim grades yet! I've had 1-2 parent meetings per day starting last week and it continues into the week after parent conferences and when we get back from break. At the most I've only ever had around 3 parent meetings during conference times so this is great, but very time consuming.
We did Zumba on Monday and I worked with the trainer on Tues. I can't remember if I told you, but my co workers are interested in trying a 5k so we started C25k on Tuesday. We were supposed to run yesterday, but my meeting wasn't over until 2 hours after school ended.
Today I am going to dinner with friends from school and my boyfriend. It is that all you can eat steak place that we like. I factored in a lb of meat for the day, but I'll doubt that I'll actually eat that much. After dinner my friend and I are going out. I'm not sure what Saturday's plans are yet and Sunday I am going to the store to get ingredients for grilled chicken wraps that I am selling at school on Monday to raise money for the Health and Wellness Club's Zumba sponsorship. I hope the sales go well. I have another training session Tues. I just cancelled my cable and internet at my apartment, so that'll save me $160 a month. I want to use that money to continue to do training sessions every Tues.
I am excited to say that my friend from school who started SP has been doing insanity and is already seeing results with her jeans! Her username is MARLO82390 if you want to show her some love. I am very excited for her and told her she needs to take her measurements and take pics RIGHT AWAY before she starts shredding any more lbs and inches.
Yesterday I went through the SP fitness demo videos and found the exercises I've been doing with the trainer. I made a giant sheet of the exercises I want to do. I have been really into looking at fitness type pictures online, not only for motivation but for ideas on what direction I want to go in. I am liking some pics of people who are training for body competitions. I don't think I would ever do a body competition, but their arms and muscle definition is so beautiful. I love that I am starting to see some type of bicep shadow. I would love to take this further. Here is my list of the exercises I found on the SP demos that I have done with the trainer. My goal is to go to the gym on my own and try these out. So far I have only done weights with him.
Bicep curls on cable cross machine
Standing upright row on cable cross machine
Dumbbell triceps extensions on ball
Wall sit with lateral dumbbell raises
Wall sit with dumbbell bicep curls
Dumbbell lateral raises
Dumbbell shoulder press on ball
Alternating dumbbell bicep curls
Dumbbell chest flys on ball
One-arm dumbbell rows
Dumbbell triceps kick backs
Dumbbell chest press
Dumbbell chest press on ball
Standing overhead triceps extension with medicine ball
Walking lunges with medicine ball
Lunge and twist with medicine ball
Wall squats with ball
Wall squats with dumbbells and ball
Dumbbell squat with calf raise and overhead press
Woodchop lunge
Dead lifts with barbell
Step ups with medicine ball raise
Balancing seated twist with medicine ball
Crunches with ball
Dumbbell side bends
Woodchop on ball
Plank
I tried on a newer pair of boy shorts last night and am loving how they look. I see areas of fat that could be reduced, but I am excited to see that there is a good foundation and shape underneath. This makes me hopeful that I can get closer to some of these beautiful pics that I've seen online.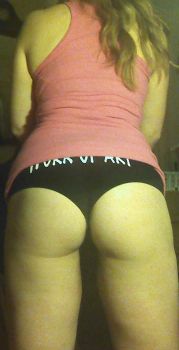 I am also in the process of trying to find a home for my cat. I got my cat my junior year of college when he was a kitten. We moved to my current apartment when I started teaching. I have had that apartment since. However, I haven't been living at my apartment for over a year since I live with my boyfriend and his grandfather. I used to try to stay at the apartment to visit the cat a few days a week, but lately I haven't slept there at all. I've tried having the cat at granddad's house, but there isn't enough space and with granddad's current needs it didn't work out. I have had my cat for over 5 years and he is wonderful, but I can't keep paying over $1000 a month for an apartment that is empty except for the cat. I am literally out of money. He is also getting lonely and would be happier with company. If I could afford a house right now we would move to a house and I would not have to find him a home, but unfortunately that is not the case. This has been very difficult for me, but I put the information on facebook, so I'll open it up to my spark friends too. I am in Maryland not far from Baltimore if you live in the area.
Tyson is a pure bred, blue point Siamese cat. He is shy at first, but very snuggly. He has never been fussy with anyone and is described by the people at the vet as a gentleman (even when he is getting procedures done). He likes to play fetch and talk to you when you get home from work. He goes to the vet annually and I have been his only owner. He lived with a rabbit when he was young and a dog when he was a little older. Once the dog knew that Tyson was in charge they got along great. Tyson is very independent. I put his food out all the time and he eats when he needs to (imagine that-- a cat that doesn't over eat!). He is not declawed. Breeders are very against that, but I spoke with my vet and they will declaw an adult cat if that is something you are interested in. He has only been an indoor cat and is fixed. Let me know if you would like more info or if you know someone that would like an addition to their home. I am not selling him... just want to find him a loving home (preferably with someone I know versus a random person on Craigslist or the pound).