Thursday, December 06, 2012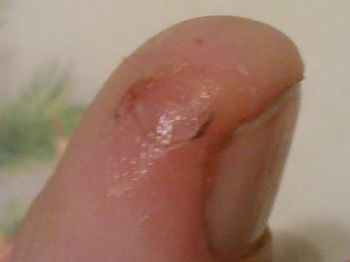 Don't know how well you can see it but this is my thumb slice. I have broken it open over night (bled all over my blanket) and then three more times today. I really hate being a bleeder - just a real pain in the rump roast.
I had the meeting at my son's school this am. We'll just say things are not going well. Because of his disabilities he is several years behind other kids his age. Well at 18 (almost 19) we have finally hit tween defiance! I hope we have found a way to get this under wraps.
The meeting was very stress full (I always feel like I'm under scrutiny for being a bad mother). And hubby and I went out to breakfast. Yeah, that was a mistake. 900 calorie breakfast of eggs and pancakes!
Came home and started working. Next thing I knew there was an empty Angle Food cake pan in the kitchen. That was a fresh cake this am. I honestly don't even remember cutting it. I must have unless Gypsy has learned to use a knife (there was a dirty one in the pan).
Enough had to be enough today, so I harnessed Tazzy and went for a run. I'm almost home when some young dude comes up and tries to take Tazzy! "That's my dog" and tried to take her off my leash. A large stick and the choice between the cops or an ambulance if he didn't let go of my dog ended that. Do I really NEED this. I got home with Tazzy and stick and realized I was bleeding yet AGAIN.
My language has been beyond "colorful" this evening. I never said it couldn't get worse. I have not tempted fate this month!
This is NOT going to get me down. I will not be stopped. Stress will not win. I had a bad day with food - so what. Today is over. What's done is done. Can't change it. I'm moving forward. I'm making changes. And I'm going to have a GREAT December if it kills someone!!!