Thursday, December 06, 2012
It's not been the best of weeks for Sparking for me. I've been mega-busy at school with end of term holiday activities. I've also enjoyed 2 Christmas lunches and have a party to look forward to on Saturday evening. It's turning into a bit of a "mince pie and sherry trifle" fest. Because of extra work commitments, I've done very little exercise. Consequently, the scales are telling me that I've (unsurprisingly) not lost any weight this week. But at least I've not put any on. Today, I gave myself a bit of a talking to and decided that the Christmas food fest is on hold now until Christmas Eve. Today I've stayed within my calorie range for the first time this week!
Last night was an occasion for much excitement amongst the local kids - the eve of Sinterklaas' birthday, when children look forward to a visit from the Sint. They leave a shoe by the chimney with a carrot and sugar cubes for Sinterklaas' horse, a bottle of beer for his helper Zwarte Piet and a cup of tea for the Sint. Then they sing a few Sinterklaas songs before going to bed and hope that the shoes will be full of presents and candy when they wake.
This morning, there were lots of happy faces amongst the Elementary and Early Years kids. They had an extra surprise - the Sint came for one final visit before he boarded his steamboat for the long trip back to Spain. A quick chorus of Happy Birthday and the Dutch equivalent Lang Zal Hij Leven and the Sint had gone for another year.
Sinterklaas arrived on his horse, Slecht Weer Vandaag....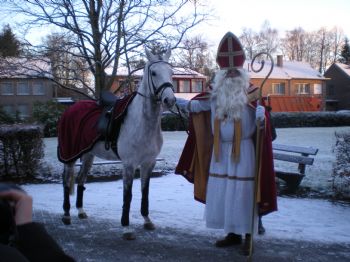 His helpers, Zwarte Pieten (Black Petes)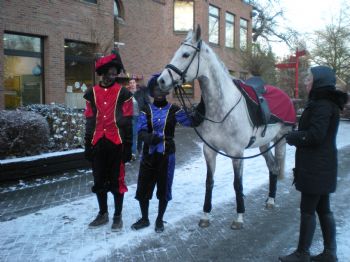 Singing Happy Birthday to the Sint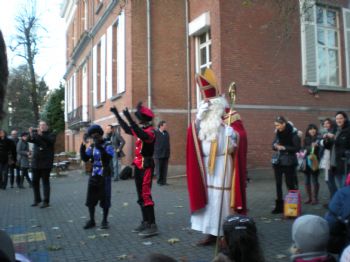 I quite like the Sinterklaas tradition. It's the main gift giving time, leaving Christmas to be a religious event which is celebrated in the way it was meant, without the commercial influence. And it means I can do my Christmas shopping without having to battle the crowds, as the locals have finished theirs now!