Goals and toes
Thursday, December 06, 2012
I've had a great week so far, cutting back day by day on the habits that are holding me back the most, like eating too much sugar, not tracking my foods and/or eating at least 3,000 calories.
I do really well when I plan out weekend goals since I tend to sabotage all the good work I started the week out with, so I may as well start planning now:
-Between 1800-2000 calories per day
-Jillian Michael's Master Your Metabolism on Saturday morning. I'm usually a slacker on Saturday mornings. It messes up my whole weekend and makes Monday more painful.
I'm making exciting progress with my high impact interval training. The scale hasn't moved, but I'm down a pant size and I don't look so flubby in the wall sized, revealing, very well lit mirror. Also, I've cut down on my walking, which means I'm not getting as many fitness minutes points, but my feet and toes are relieved and improving their range of motion in my other workouts. It's very exciting to be able to bend my toes a little more every few weeks, since they're not so exhausted from walking! I asked my co-worker to take a photo of today's most bendable and I'll take another one in 8 weeks. I couldn't get my heel up this far a few weeks ago!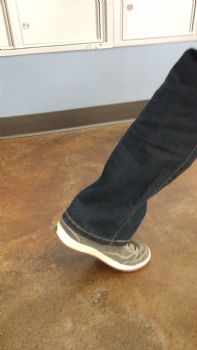 When my doctor told me I had bone spurs and gout a few years ago, she told me I wouldn't be able to bend my toes if I didn't have surgery, but this proves that with the right kind of attention and modifications, I can. What does she know anyway, she spelled toe "tow" on my diagnostic report. I think it motivated me to not take her diagnosis too seriously. I don't mean any disrespect, but sometimes our inner brat is a force for good, I guess.