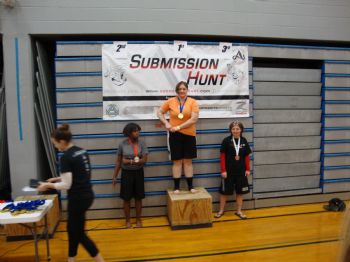 My podium gold medal win at Jiu Jitsu competition on 11/17.
November marked one of the most defining moments in my entire life: winning a competition. Not just participating, but winning. If you had asked me a few years ago, when I was still the fat kid in gym class getting bullied about my weight, I would have said that winning a sporting event was out of the question. I still kind of can't believe it. But, the biggest reason that winning was a defining moment was that I proved to myself that I truly can reach my goals. I may have been surprised with my win, but my teammates weren't; most of them simply grinned and said, "I told you so." Ultimately, I have my teammates to thank. I have found that not only do I need to believe in myself, I need to allow others to truly believe in me. Being surrounded by such great support has allowed me to become free. The past year of doing Jiu Jitsu has been the best in my life, and I am so happy to only be at the beginning of this journey.
Overall, workouts have been going better. I never ever thought I would say this, but I need to back off on weight training. Heavy weight training just does not seem to agree with my body and does not seem to be an appropriate form of training for my body. This makes me sad, as I am a big believer in heavy lifting for weight loss. Every time I build up and then go heavy, my joints end up more painful than before and I get injured. It is not an issue of form or programming. The combination of Jiu Jitsu and heavy weight training is too much for my body. My body has been fighting itself; I can do Jiu Jitsu or powerlifting, but not both. Even with rest days incorporated, my body just can't tolerate being worked to failure by both weight training and Jiu Jitsu. So, I need to change up my strength training. I will be sticking primarily with body weight exercises (plyometrics, push-ups, dips, pull-ups, etc.), kettlebells, Pilates, dance/barre work, and yoga. Jiu Jitsu also doubles as strength training. I will need to focus on incorporating some explosive movements in order to gain the strength and power that would be accomplished through heavy weight training. Plus, trying to throw 200 pound dudes during practice certainly doubles as strength training.
My weight has been hovering in the mid-230s for a couple of weeks now, so I made my 60 pound loss official. I have been losing weight a little more steadily over the past month, but only when I am completely diligent about avoiding wheat and dairy. I can't deny my sensitivity to wheat and dairy. I used to think it was just that I would overeat things like pasta and pizza, but I don't lose (or actually gain) if I incorporate more than the occasional morsel of foods containing wheat or dairy. My body and brain are finally learning not to crave wheat and dairy foods so much now that I have made the connection of what it does to my body. As a matter of fact, I know that eating wheat and dairy for more than a couple of days puts on about 7 pounds (and I visibly bloat to boot). I have noticed that after I eat wheat/dairy and then return to my normal eating, I lose 7 pounds within a few days and my belly "deflates" again. I am working on a separate blog about diet.
In any case, I am excited to head towards my 75 pound loss. I remember when I started gaining weight, it was when I got into the 230s that I started to feel really out of shape. That was when my face really puffed out and I grew the spare tire. I am starting to actually feel like I am leaner again. My spare tire is much smaller and my gut doesn't get in the way of movements any more. A few days ago, when I put on my winter coat, I noticed that it was very baggy. After that, I noticed that a lot of the clothes that I have are getting pretty loose. Nothing like getting to shop for new stuff!
Today I caught a glimpse of myself in the mirror as I was laughing, and I noticed that my face is leaning out and my dimples are back. Well, I'm glad for that, because the month of November gave me a lot to smile about.