Wednesday, December 05, 2012
Hey everyone! Thought I would drop a pic and a few words from our favorite kitty, Tiny who is doing so well. He looks great!!! Check him out and see what all the fuss is about.
"It was Tiny Tuesday yesterday of course and I'm wearing my first Christmas tie. T'is the season to be mindful of what we eat. My fur-iends last week I weighed 17 lbs 6 oz and another loss this week. I am NOW 17 lbs 3.5 oz. I have lost 2.5 oz." Meows, Tiny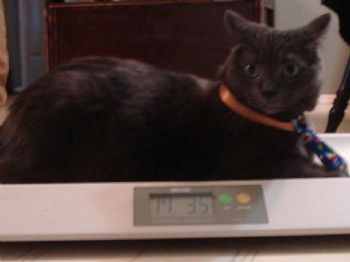 Hope everyone is well & trying real hard not to nibble on the Holiday Treats. I know, I know, it is so hard not to be tempted. Oh gawd how I know...lol!!!
Hugs,
Tony