Tuesday, December 04, 2012
Hello again Friends!
I hope you all are having a great, healthy and productive day so far! Mine has been very nice and busy. I got a little Christmas shopping done! I LOVE Christmas. We're putting up the Christmas tree tomorrow and also the rest of the decorations. It's so nice that it's snowy outside. Nothing like snow to get you in that Christmas mood!
I met all my nutritional goals today and went for a walk as well! I usually always crave something sweet after my meals but today I just had a few grapes after lunch and that was enough. I didn't even get cravings! Also, I've been really trying to monitor my sodium intake and avoid using salt as much as I used to. I do still use it when I cook but way less than I used to. And much to my surprise, the food tastes just the same - or actually, even better!
As I said on a previous entry, I'm finally (mostly) stress-free and in a calm and peaceful place. I find that focusing more on the present - as difficult as it is sometimes - makes a huge difference. This SparkPeople quote rang true to me when I read it: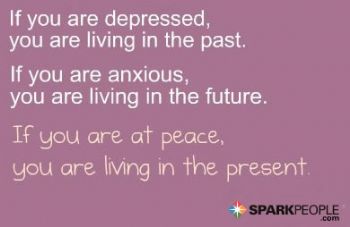 Have a great day everyone! And thanks for your support :) I love all of my SparkFriends!