I finally have internet access. I missed you guys!!!
I think the house is functional for the most part. I am in no way unpacked or organized, but I have some clothes and kitchen stuff unpacked. And of course, my stationery and stickers (current sticker count: 2760).
I put my husband on a bus yesterday, so today was going to be my official start date of my 10 pounds in 7 weeks. Buuuut, I forgot to weigh myself this morning. And I don't have the tape measure...I just realized that I didn't pack it. And no printer to print one out yet. I may just get a new one later, but until then, I'll go with my weight measurement (tomorrow). At a minimum, though, here is the promised photo: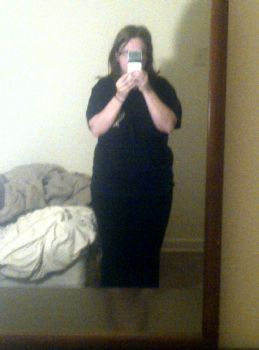 I'm wearing all black, so I guess it's slimming.

I start work tomorrow. I can't believe how fast everything is happening, but I am not very sad anymore.
I bought salad things. Lettuce, tomato, bell pepper, celery, radishes....
I need to also buy some other, heartier things to put in the salad. I tried to find a salad generator online and couldn't find one, but how cool would that be? You'd spin a wheel for base (arugula, romaine, spinach...) then veggies, then maybe even fruits, then nuts, seeds, meats, dressings...and so on. I think I'll try to make my own salad generator.
Tomorrow, I'll post my weight.