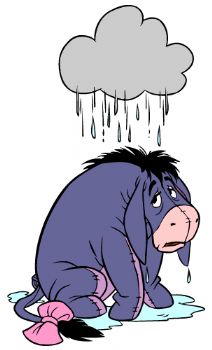 Sometimes sadness is big and red and raging, more like despair than anything else. And at other times, it is almost a calming, all pervasive blue, gentle yet lingering. This is the breed of sadness that has latched onto my spirit today. Earlier, I couldn't quite figure out how I was feeling, but as the day progressed, I succumbed to the gloom that was following me around like Eeyore's cloud. It's not a horrible feeling, although not so conducive to work, as I feel like I could burst into tears at the drop of a pin. If a student approaches the desk and is rude to me right now, I'm not quite sure how I'll handle it. I'm as fragile and brittle as crystal. Strangely, though, this is my favourite kind of sadness to experience, a quiet melancholia that is somehow nearly enjoyable in a perverse way. It is not the best mental space to be in when I am at work, however. I'd much rather be taking a long train or bus journey, listening to quiet music, and just gazing across the grey landscapes as they flow by me.
I can't really pinpoint the cause of this mood today. I suppose there are several underlying reasons, not the least of which is hormonal. Of course, anybody who has read my past few blogs knows that things have been taking a bit of a downturn for me lately, moodwise. But I'm plowing along. This past weekend was okay, although I did allow myself to have some pizza on Saturday, and that did make me go over in calories for the day. That's okay though. I'm not beating myself up about it, and it didn't seem to do any lasting damage. My crazy binges of last week caused me to gain half a pound, but considering how much I ate, that really isn't so bad. Hopefully, as I've been keeping up my exercise, and have been eating well for the most part (apart from Saturday), I'll see some losses again by my next weigh-in. And if I don't, I don't. I know that I am now at the point where it's going to be harder and harder for me to lose weight. At first I thought that I'd reach my year end goal of 150 by Christmas, but now I'm not so sure. I'm going to keep trying, but I can't be too hard on myself if I don't get there. As long as I don't let myself get back to my old habits...
My weekend was a mixed bag. Friday I had my condo finishes appointment which went better than I expected. It turns out that I'm most likely going to be able to afford all the upgrades that I want, so yay! I still have to do a bit of number crunching, but it's looking pretty positive right now. The rest of the weekend was okay. There are certain people in my life that seem to be conspiring against me to make my life difficult. Okay, no, I'm obviously being silly, but really, so many of my problems (that I don't want to go into here), are caused by other people. This time, I'm namely speaking about certain family members. Unfortunately, I am sometimes inclined to agree with Sartre's claim that "hell is other people". *sigh* And, you can't do too much about choosing your family, can you? So I just have to grin and bear it and hope that this whole thing passes as quickly as possible.
On the relationship front, my boyfriend and I still haven't sorted anything out, but my heart aches every time I think about him. I think that's probably a sign, but I haven't quite interpreted just what sort of sign yet. I'm so worried about him, and I don't know how to help him. He has problems that I don't want to expound upon here, because, well, they're his private business, and I'm sure he would appreciate me writing about them in detail. But I just don't know how to help him, and he's not doing much to help himself, and I worry worry worry about his future constantly. I know he has to be the one to take the steps he needs to in order to make changes in his life, but it's frustrating, because his life is so deeply intertwined with mine. I am totally at a loss for what to do.
That's enough whining from me today. I hope that I can find it in me to write a more positive blog again, soon.