Remember last year when I did the Santa Speedo Run? Well I'm doing it again this year! And guess what that means? I gotta make sure my abs are visible again. Every year a group of 400 or so get together and run sprint one mile through downtown Boston in nothing more than a speedo (guys) or a slutty santa costume (me.) It's really fun, it's a reason to party all day and it's a reason for me to dial in my nutrition a bit so I can have visible abs again.
I began preparing last Monday by recalculating my BMR again since I left my job at the gym. I was burning around 2400 calories a day because I was up, demonstrating push ups and chasing people down with heavier weights for hours. Now I am sleeping and sitting more, so after recalculation, I determined my BMR is right around 2000 calories/ day.
I weigh 135 pounds. Well, not true because I've been consistently weighing in around 137 lately, and to be honest, my jeans don't fit as well as I would like and I'm not seeing the definition I would like in my quads, abs and delts. It was just about a month ago when all of the things were fitting and looking the way I prefer, so I guess over the last four weeks I've kind of loosened up a bit on my nutrition and I have not been sprinting as much. Well if my nutrition was a little tighter four weeks ago and I was sprinting consistently four weeks ago, then what does that tell me? I SHOULD DO WHAT I WAS DOING FOUR WEEKS AGO!!!
Since I am not trying to lose weight, I am going to eat right around 2000 calories a day. I just want to get rid of a little fat, and I want to continue to gain muscle, so a caloric deficit is not really what I am looking for. I just need to tighten up my nutrition – work toward having less fatty protein sources like steak, sausage and bacon and focus on eating more eggs, chicken, turkey and bison. And of course, stop eating so much almond butter! I don't track my calories on a regular basis, but I am pretty sure I was eating way more calories than necessary each day in almond butter. Woops!
So Monday I did track my calories. I needed to check in to see exactly what was going into my body. I consumed around 1800 calories, 150g protein, 130g carbs, and about 90g of fat. I felt really great eating that too.
Breakfast – 2 eggs, 2 egg whites, spinach, mushroom, .5 oz goat cheese, 4 oz sweet potato, 1 tsp coconut oil, cinnamon, nutmeg, 2 tsp apple cider vinegar
Snack – 3 oz chicken, 1 apple, 3 T powdered peanut butter
PWO shake – 1 scoop About Time whey protein, 1 banana, 1 cup unsweetened plain almond/ coconut milk
Lunch – Salad with zucchini, tomato, 3.5 oz chicken, 1/2 avocado, 1 T olive oil, .33 oz pine nuts, 2 tsp apple cider vinegar
Dinner – Beef and Broccoli, 2 tsp apple cider vinegar, 1 tsp fish oil
Post dinner – 1 T cashew butter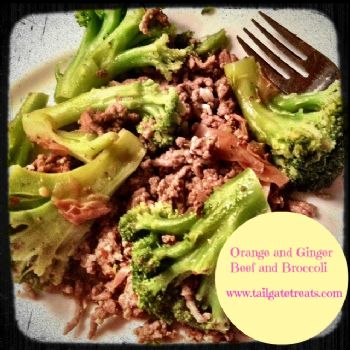 Now.. on to my training…
Mon – Heavy deadlift day and HIIT and yoga
Tues – Heavy squat day and HIIT
Wed – Power clean technique at Crossfit
Thurs – yoga
Fri – Snatch technique and HIIT sprints (these will come in handy too, as I train for the Disney Princess Half marathon)
Sat – long, endurance cardio at Crossfit (Hero WOD)
Sun – rest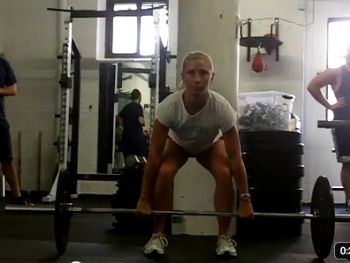 As you can see, there isn't really much cardio involved. The one day I did endurance work was a 40 minute Hero WOD at Crossfit. Even that was not traditional cardio as it included heavy deadlifts, handstand push ups, thrusters, pull ups, knees to elbows, kettlebell swings, and burpees.
Now that I am eight days in, with five days left to go, I am feeling really good about my visible abs. This past weekend did involve some wine, but I kept the carbs low and ate fish and avocado for dinner. And now, for the rest of this week I intend to do just the same!
Kyra,
The Get In Shape Girl
Do you need some help putting together a workout and nutrition plan that will help YOU get visible abs?
Sign up for virtual training and let me put a fool-proof plan together for you!