December Challenge - Day 3
Monday, December 03, 2012
First of all, let me say how the rest of my day played out yesterday. I took down the curtains in my living room and washed them (then dried and ironed before re-hanging). I also took down all the pictures and dusted them, as well as the knick-knack type things. While the curtains and pictures were off the walls, I washed all the walls. Then moved the furniture around to make room for the Christmas tree, while vacuuming under the couches that don't get vacuumed very often!
The finished result: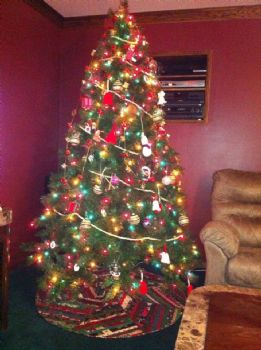 My son was over to help with setting up the tree, and decorating it. I loved having him here with me to do this. As much as we are enjoying the "empty-nest", its things like this that really make me miss that they're gone from home.
So, now on to today.
I was lying in bed listening to the radio. All kinds of things cancelled. Tons of new snow, and driving wind (with gusts). Travel not recommended. Highways in areas closed. All sorts of cancellations.
So I'm thinking, "another day I won't get outdoors".
But thankfully, I have the treadmill. Down to the basement I went, and got in 30 minutes on the treadmill, plus a 15 minute Coach Nicole ab video. So now I'm on to a three day Spark Streak for walking AND for blogging!
Because I live in town, I can't use the 'snow-day' excuse. So I'm off to work now. Have a great day everyone!