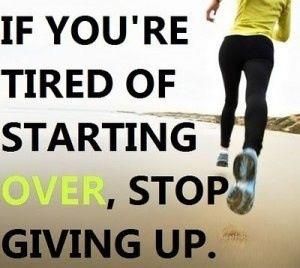 I have come to the conclusion that my weight loss journey has been a bit like running a marathon. (That being said, I have never actually ran a day in my life and probably would not, even if there was an ice cream truck ahead of me and a gunman behind me. Still the similarities are worth mentioning...)
When I first started Weight Watchers, I was like a first time competitor, nervously shifting my feet in anticipation of the starters pistol. (In reality this is probably the point that I would wet my really cute running shorts!) I was excited and off in running like a pro. I was doing great, losing weight quickly and easily.
As time wore on, I kept chugging along, but I was slower. In other words I initially had a big weight loss the first week or so and then slowed down to a more reasonable rate. This was still good though. I was making progress.
Then I started getting bored. I tripped a little and even fell once or twice. I would stop tracking or let my workouts slide. At one point I sat my butt right on the side of the road and watched as my fellow runners whizzed right past me. Time and time again I would sit in my meetings feeling badly that I didn't lose while others were dropping pounds. The difference was, that they were trying and I was not.
Eventually I gave up and turned around, truly believing that I just could not do it. The race was too long, my legs were too weak and I didn't think I had the determination to keep going. I could see the Finish Line, but it was beyond me.
Recently, I chose to stop dieting and just live a healthier lifestyle. I decided to eat better, work out harder, drink water and get to bed earlier. I am becoming a fit person because I have decided to live like one. I stopped walking back, turned around and saw the Finish Line once again. I started running towards it instead of away from it.
You know what I discovered along the way? There is no Finish Line. It's a mirage. This is every day, putting one foot in front of the other, moving forward and never looking back. This race is simply my life.