Today I went grocery shopping with my husband. He made the dinner menu for the entire week and created the grocery list from it, so I could sit and play a new video game that I like. Super sweet! Anyway, on the way to the grocery store he explained to me that he wants to have a contest this week.
I think he's been thinking harder about his diet lately and wants to eat better, but he is a sports person, football coach, so it has to be competitive for him to really put effort into it. So anyway, we each get one point for each serving of fruit and veggies we eat this week. The trick is that the same food can only count once per day so I can't eat an orange for breakfast and for lunch and count it twice. I think this is a great idea and I'm so excited about it. We bought apples, oranges, grapes, salad, celery, carrots...I can't even think of the rest of it, but our fridge is PACKED with fruits and veggies. We even decided that dried fruit can count, so I bought prunes, which I love. My biggest issue with prunes is sticking to a serving of them because I love them so much, have ever since I was a kid. Imagine me as a 7 year old asking my mom to buy prunes at the grocery store; my mom used to crack up on that!
I'm so excited about this for 2 reasons. The first being that a competition is going to make me mindfully eat more fruits and veggies which I think it a great idea. Secondly, it's the beginning of my husband (maybe...) falling in step with the healthy eating that I have tried to start in our home. He's been incredibly supportive to me, cheering my highs and encouraging me through my lows, but he has never really taken an interest in joining in so I'm excited that this may be the first step towards that.
Someone remind me to update at the end of the week to tell you who won. I wish I could say that it's going to be me (and I am going to try very hard) but you know that saying "so and so doesn't have a competitive bone in their body"? Well, every bone in my husband's body is competitive so this is going to be cut-throat.
We put up our Christmas tree and put some decorations around the house, so it's starting to feel Christmasy around here.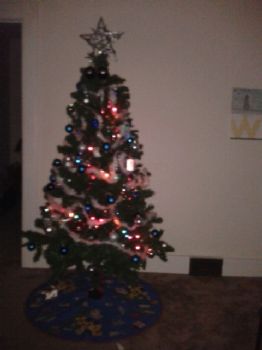 I wish it would get colder (I never say that) so maybe we could have some snow for Christmas, but I doubt it will. We usually don't get cold enough for snow until January or February. I'm listening to Christmas music as I write this which makes me smile.
I can't believe the weekend is almost over. It has been good. A lazy weekend. We only left the house to see some friends on Friday night and today to go grocery shopping. Sometimes the best weekends are the ones where you don't really have to be anywhere or do anything important and you can really enjoy your downtime, which we have!