Sunday, December 02, 2012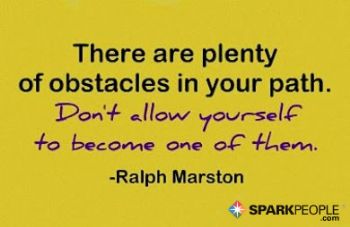 Q: Why would I want to stand in the way of my own success?
A: There is no good answer. I support myself 100% as I work on becoming the healthiest I can be. Good health is my number one priority, not the number on the scale. I want to be there in the long run for myself and my family - those related by blood and those related by love.
I brushed off the compliment sandwich at the time but since then I've been thinking about it. "Wow, you've lost weight. You look good. Don't lose too much weight - you'll disappear. How are you doing it?" (Insert my favorite shocked internal expression versus the composed external expression I know I wore). Like I'm going to disappear?
I share that I'm using Sparkpeople to track my nutrition, drink eight glasses of water a day, and I keep within a certain caloric range. I explain that it's an easy website to use and it's free. I even write down the URL and give it to them.
Are they going to follow through and create their own success? I don't know. But their words are not going to affect me and make me stand in the way of mine!