Saturday, December 01, 2012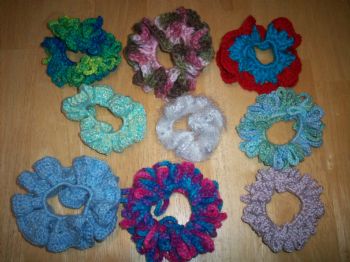 Another project I found to use up my leftover yarn, and also help Operation Christmas Child. I have been making crocheted hair scrunchies. They are not hard to make. You start out by doing single crochet around an elastic hair band and from there, you can do a variety of stitches. I've been working on them when I watch tv in the evening.
Thank you for the comments and the Spark Goodies regarding my blog earlier this week. I am still fighting the fatigue, but the last couple of days I've actually had a few good hours each day when I didn't feel quite so tired. I think that knowing I have so many people that care about me helps; it lifted some of my depression and that is what I am sure made me feel a little better. I just have to stick it out til Tuesday, when I go for chemo again, and if it is found that my hemoglobin is too low, then they can schedule a transfusion to get me feeling better.