Saturday, December 01, 2012
As I said on my status earlier, I just love it when the month changes! It's the symbolism that gets to me: a whole new month ahead of us is like a clean slate, we can make it either a great one or a not so great one. Today, I am making a promise to myself to make this December as great as it can be. I want to start the new year (in one month it will be 2013 already! How crazy is that?) right and I want to feel healthy and in control from the start. It's obvious that I've been having a lot of issues with my motivation lately. As I've said before, I make no excuses. I could have and should have worked harder but I chose not to. I should have known better but I was lazy and got too comfortable.
This is a fresh start. I need to start taking better care of myself again to be able to live my life the way that I want to. I am committed to making this change and sticking to it. I have been able to maintain my weight loss (for the most part, I've gained 2 pounds) and I've also been working out a lot lately which I'm very happy about. I recently ran my first 5K ever and I've been going for a brisk walk every day. Now I just want to start tracking my meals again to make sure I stay within my calories and start losing weight.
My goals for December are:
- lose 9 pounds (weigh in once a week, on Monday mornings)
- go for a walk every day
- track my meals every day
- update my blog at least 4 times a week to stay accountable
As I said, I got too comfortable and lost sight of where I really want to be. As much as I love my body and even though I really do think I am beautiful at my current weight, I can't honestly say I'd be content to stay where I am. It's been okay for now and I've learned so much about myself and gained such an understanding and a respect for my body no matter what the number on the scale, but it really is time to start moving on. I can feel it.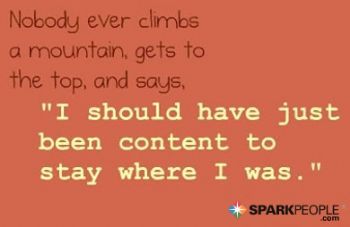 That is so true!