Saturday, December 01, 2012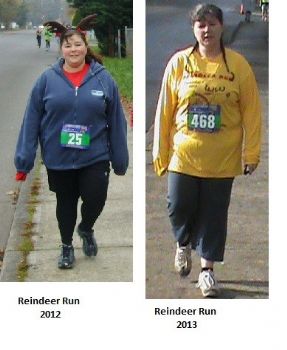 These are from 2011 and 2012....I just realized I put the wrong dates.....lol
This picture shows me doing the 5K last year which I walked and finished with 56:40 at a 18:40 min/mile
I started doing the couch to 5K program and today it payed off!!!
We did the 5K in 36:58 minutes!!! Thats an 11:53 min/mile!
I was hoping to at least get the 5K done in 45 minutes so this far surpassed my hopes! I am excited to keep working towards more goals to reach!
Next year I am working towards running the 10K!!!
This picture also shows the weight difference from last year!
I have lost 47 pounds from last years Reindeer Run to this years!!!!
I feel awesome!!!!