Saturday, December 01, 2012
I've never been much of a fan of vegetables or physical activity. I've basically been "suffering" through them in order to reach my weight loss goals. However, I've noticed some very strange attitudes in myself recently....
On Thursday, I left the produce stand excited... no, positively giddy about the fresh veggies I bought. I used to only feel that way about Jelly Bellys. And chocolate. And cheese fries. And Chick-Fil-A. But that day I couldn't wait to try the Engine 2 Diet panini. It consists of hummus, green onions, cilantro, mushrooms, and spinach. (I added red bell pepper slices.) Four years ago, I remember looking at a coworker in disbelief as she ate a veggie only sandwich. How can it be a sandwich if it doesn't have meat, I thought. I've now learned that it can be a sandwich and a pretty tasty one at that.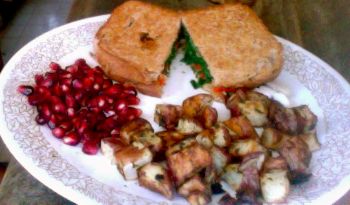 On Friday, my giddiness was related to running a 5K later that evening. Eight years ago, I fought the urge to roll my eyes and smiled politely as my college roommate said, "Running is fun! You should come out to the running club with me." How can sweating and panting be fun, I thought. Over the last year, I've learned that running is fun. The fireworks before, jingle bells on the runners' shoes, and full moon were just icing on the cake. I didn't finish with the best time I was capable of, but I accepted that 25.28.7 was what was available to me that day. (Thanks, yoga.)