3:30am wake-up call! Buses started leaving from our hotel to the race site at 4:30am! We wanted to make sure we didn't have to rush. We picked up our brown bag breakfast, got on the bus, and headed to "Ground Zero!" We were dropped off at Riverfront Park, one block from the starting line on Brevard Ave in Cocoa Village!
Yes, my customary Finish Line Staredown!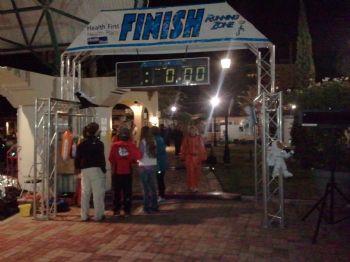 Race prefueling consisted of bananas, H2O, and PowerBar Gel Blasts. We also took some great photo ops. A balmy 45 degrees, and a sunny day predicted, it was all systems go to launch!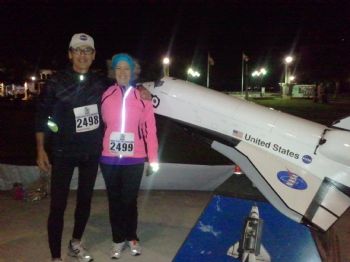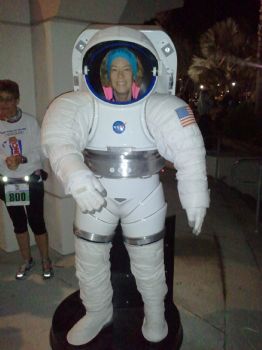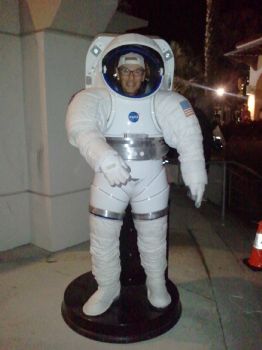 We walked to the starting line and the corrals.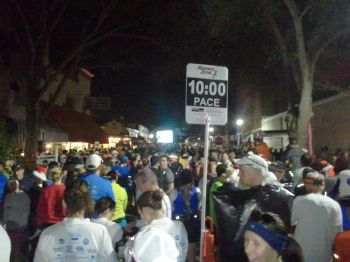 The white spot is the Jumbotron. This would show the final countdown and liftoff. THAT signaled the start of the race!
We were off and within four blocks, we had hit the main straightaway of the course and were welcomed to dawn on the Indian River!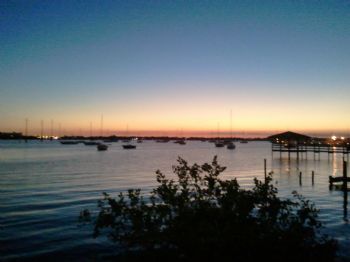 All the water stations were race themed. I meant to take photos at every one but things happened.
Sunrise on the river...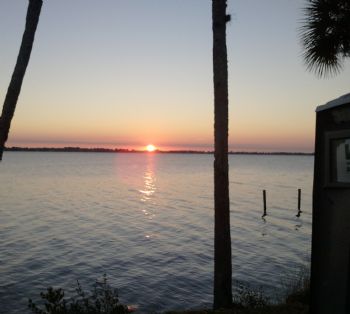 ...and the clue to my race changing plan is on the right!
Runners! You know things happen during a race. I started with a slightly inflamed Achilles. I found a nice steady pace and felt little pain. I forgot about my carb session the night before. Normally, D & I will have a couple of slices of pizza, maybe a bit of pasta, but not that carb fest we had! OVERKILL! Houston, we have a problem. I went one more mile before getting into line for a seat at one of the two "aid stations." Almost 20 minutes later, I was ready to continue my flight!

D had passed me earlier and I figured I could catch up to her. It seemed to me that only the last corral was ahead of me. I jettisoned my plan and kept a solid pace, starting to pass everyone who had moved ahead. I had no clue how to make up time. I finally came up to D (at approximately the 5 mile marker.) I walked with her for a while then headed out trying to catch others I started out with. Within a mile from the halfway mark, I was doing pretty well.
I came up to the Space Coast Parrot Heads water station.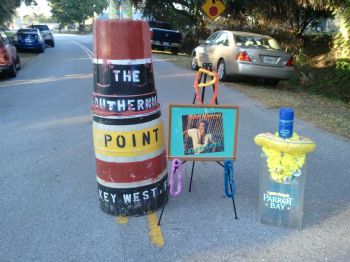 Inside a hundred yards, I made the U-Turn!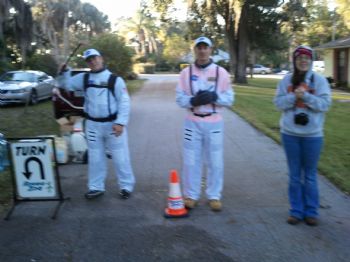 6.55 miles to go and I was feeling pretty good, despite my change in plans. I started to focus on the rest of the course. at around the 9 mile marker, I caught up to two interval runners whom I had seen earlier. They were shocked as I had passed them earlier, and asked where I had been. "20 minute comfort stop!" That's all I had to say. They had seen the long lines over the first half of the race. It was then I decided to interval the rest of the way in.
The ladies and I paced each other to within a half mile of the finish. I realized my time had suffered severely and decided to give it all I had that last stretch. I finished and felt great about that. I also realized what I could have done. I set a minimum goal for this race, under 3 hours, and made it. This is a first for me as I feel I owe it to some of my teammates. I'm not excited but my chip time was 2.55.45. Considering the physical conditions, I know that I could have done at least a half hour better minimally! But I still embraced the finish and also realized it had been 9 months since my first Half.
Let's get to some of my post race photos....
As always, I waited for D to come in. She clocked her PB, better than the gun time and chip time!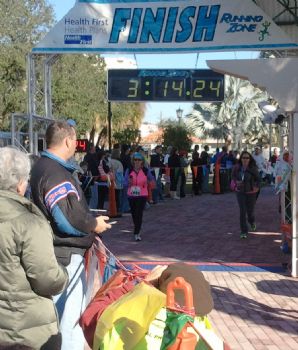 Cooling down, and refueling commenced!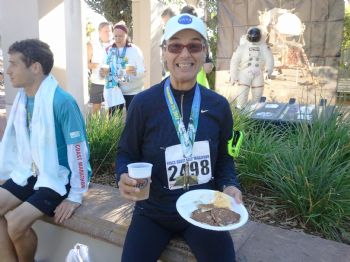 I have to give props to all the volunteers. They were the ones a lot of runners like! Positive, encouraging, and focused on making it a fun race for us.
Scrambling up eggs!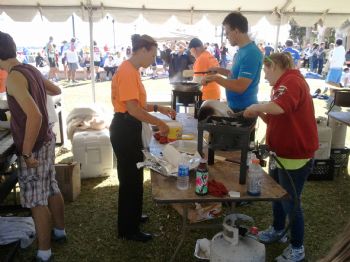 Grillin' 'cakes!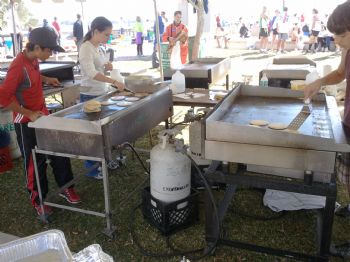 Bagels n 'Nanas from Publix!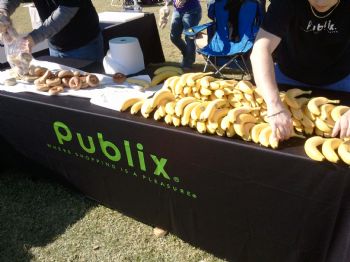 Honest Tea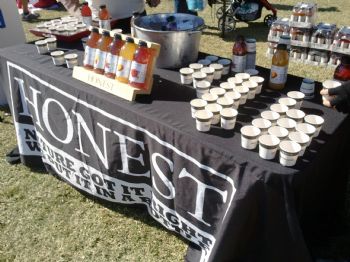 Stone oven 'za!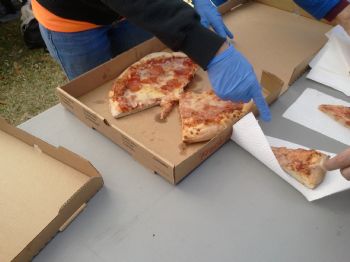 Beer never tastes as good as after a Half or, I'm sure, a Marathon!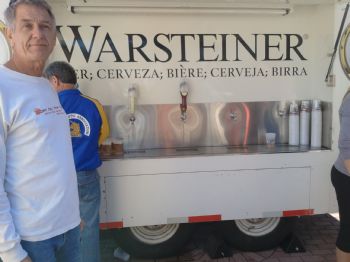 And just in case, two massage stations!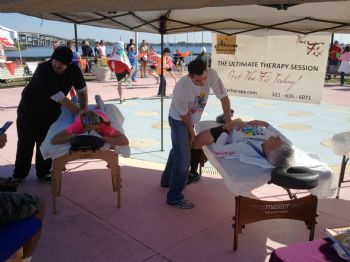 I had to take a shot of the stage. Everyone coming into the finish was announced and shown on the stage screen behind the space shuttle!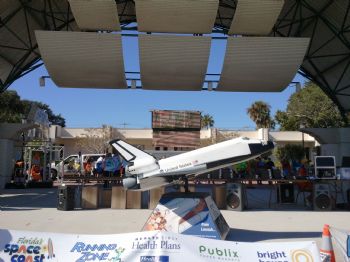 The Runners & the Spectators!
I'll post the pro shots soon. IMHO, and in spite of the minor physical setbacks, after 29 5Ks & 2 Half Marathons, the best race of all since we started,...but we're not even finished!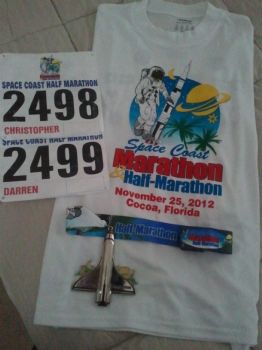 Mission Accomplished!