Friday, November 30, 2012
Iíve been reading quite a bit this week on some of my SPARK friendís blogs and message boards about feeling frustrated with results. You know what? IGET IT! I hate that I donít wake up every morning with the body of the fitness model thatís stuck inside me dying to get out! LOL! But, we have to stand strong, and tell those negative thoughts and words to SHUT IT UP! We have no time for these kinds of negative thoughts, because we are too busy with our lives and working to make our dreams a reality!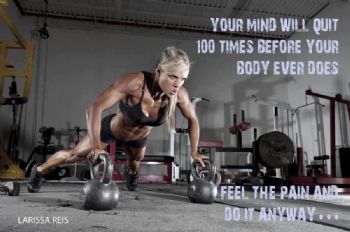 The bottom in is thisÖitís going to take time, itís going to be hard, there are going to be set backs, youíre going to be doing everything right and the scale isnít going to cooperate. Itís okay, just take a deep breath, accept that this is part of the journey, and keep pushing. I guarantee that change will have no choice but to happen. If you quit, you will never know how close you may have been to a huge break through.
I was doing some yoga this morning and decided to do a quick 10 minute
meditation afterwards. I cannot tell you how happy I was that I took this few minutes to myself, because for the first time a saw the future me! I was just sitting still, letting my thoughts flow, and I saw my body with my face as I dream of it being. I was filled with such warmth and joy that I almost started crying! I saw my strong arms, my firm sculpted mid-section, I couldnít see my legs or butt, but Iím sure they were AWESOME! LOL! I have been battling with some discouragement this week as well, but I canít give up, because the real me is waiting for my success so that she can LIVE!
I WONDER HOW MANY TIMES SHE WANTED TO GIVE UP?
WE CAN DO THIS! LET'S STICK TOGETHER, LEAN ON EACH OTHER WHEN TIMES GET ROUGH AND CELEBRATE AT THE FINISH LINE!