Thursday, November 29, 2012
I really don't want to become "that" blogger who changes everything she cares about for her new pregnancy. So shall we call this a "progress pic"?
Please excuse the hair. When you get up 7000x a night and still can't keep down anything beneficial to your body, you tend to start thinking that unkept hair is totally hot because well, at least I washed it and blowdried it straight yesterday. But that just isn't so. One day when I have money again, a haircut I will have. Until that day, please avert your eyes.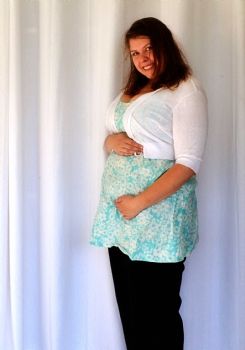 It took a while to "show" because of my tummy flubber, but now I feel pregnant for real because it's hard and nearly impossible to suck in. So what you are seeing (especially in my lower belly) is all baby. I feel enormous, but am still fitting into my pre-preggo fat clothes size 18-20. I hate using these clothes again, but everything is growing and will be for some time, so I just will have to get over it. I still keep an eagle eye on my weight for now. I am scared to death of putting on too much- and so far so good, I've only picked up what I lost when I stopped eating for 3 months and am back to pre-preggo weight. I only "have" to put on 9 pounds by American standards since I am still technically "obese" but I am aiming for 20lbs or less (SA doctor says anything less than 16 kilos [about 35 pounds] and I'm good)
I hope that what I've been doing continues to keep working. Eating when and what I feel like, choosing the best nutrition that I can for that moment, stopping when I am full, drinking water.
I've been rather ill the last few weeks and need to look at different ways to get my protein and iron back up without the nausea. I may break my 'clean eating' for a protein bar here and there and see if that helps. I'm so EXHAUSTED all the time, and it's supposed to be the best time in pregnancy. I feel like I'm just sleeping it away.
And well, Ive run out of mutterings. So Have a HAPPY DAY!
The END!