Tuesday, November 27, 2012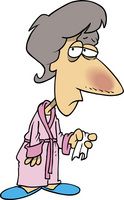 So, I have my first cold of the season; somebody, somewhere this Thanksgiving weekend slipped me a mickey! :-) Last January I got my first bronchitis ever and had to go to the emergency room; bronchitis and asthma don't mix apparently so now I'm terrified that will happen again.
It's only a couple months before I go on vacation and I'm not at all ready. I did my Christmas shopping (I have a million greatnieces and nephews) and then my stepsister called to say we aren't having our "usual" Christmas; she's scaling back and just having her children and grandchildren and maybe we can come over for lunch or something beforehand. So, I have all these "generic" boy/girl/older teen gifts and no one to give them to; I'll have to fall back and regroup on that one.
We are supposed to be celebrating Hanukkah with the grandkids; we all meet at Toys R Us and they pick out what they've decided on from us and then we all go out for dinner only this year our granddaughter has decided to pool all her money/gifts and get an IPod Touch
www.apple.com/ipod-touch
/
. It's basically an iphone without the phone (she's only 8 so her parents don't want her to have a phone yet) or a limited ipad, something inbetween those two I think. But our other son "knows a guy" so I don't know what the outcome of our evening shopping/dinner trip is going to be in a week or two; our grandson (7) is wavering about whether he wants to go the same route or not.
We have a really dreary day here in Maryland but did not get the pink precipitation they were forcasting (yet), the slushy mix mess. I'm living on Advil Cold and Sinus every 4+ hours; tried to do without this morning but that didn't work. Last night, just when I'd get comfortable in bed and the nose would take that moment to decide to drip so I'd have to discomfort myself to blow it. Woe is me :-)