Week 3/52 - Run to Butterfly Creek
On 24 March 2013 I am running the 22k Mt. Lowry Extreme Mountain Run with 1100m vertical ascent. As I have mentioned in previous blogs, this challenge had me puzzled. It is run in one of the most expensive neighbourhoods in Wellington so I struggled to understand what was 'Extreme' about it. This is the ridge line profile. Access is through trails from the harbour to the ridge at various points along the ridge.

Four weeks ago I ran the first half of the race and I found out why it's extreme and I had only run the 12k leg which isn't catagorised as extreme. So was pretty worried about the second half of the course that required navigation experience and survival gear. Yesterday I found out when I ran that leg of the race.
To run only the second half we had to climb a ridge that was a scrabble hand over fist from sea level to 300m (1000ft). At one point you gain 100m over 250m, so a gradient of over 40%! It took us 22min and my hrm pegged me at 160bmp for the climb. I was huffing nicely!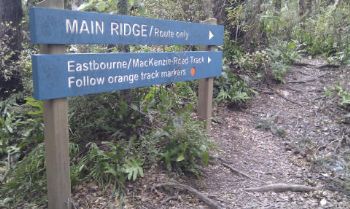 Once on the main ridge and at the beginning of the 'Extreme' section, we sail along a tight ridge trail hopping from tree root to tree root, in and out of trees, around logs, down small dips and up short knolls. It was reminiscent of great single track on the mountain bike, only a much tighter trail. We descended down very steep terrain but nothing extreme in our view. Within a short space of time we emerged on to a wide graded track with a park bench and a stunning view of Wellington Harbour.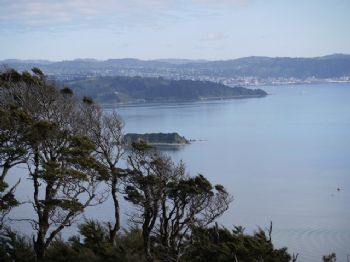 At this point we descended further into Butterfly Creek behind the main ridge line. It was a lovely graded zigzag path down into the valley. Apart from the bugs hovering around the stream it was glorious. We ran along the valley for over a kilometer to the picnic area. (I'm guessing but to protect the wetlands) the path was made of long wooden raised platforms for big sections and these are like running on a trampoline compared to hard dirt or graded paths. Quite fun bouncing along a winding path through tall beech trees, ferns, trickling water, and bird song. If I hadn't kept ingesting bugs and getting them in my eyes it would have been pure magic!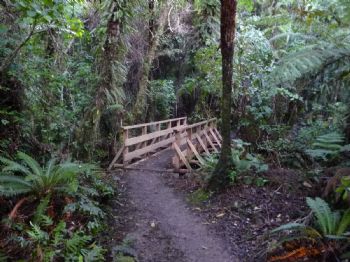 We reached the picnic area in 50 minutes from the main ridge turnoff and turned after a 3 minute breather. Heading back I was apprehensive as I knew there was a lot of climbing to be done and I'd already been moving 75 minutes. All was fine until I hit the zigzag back out of Butterfly Creek. A bug lodged in my windpipe and I couldn't dislodge it. My coughing along with the exertion brought my running to a walk. I could see I was hitting submaximal heart rate and I can't last up there, yet ;-)
This was very frustrating for me as I found the same issue in my race in October. I can't run steep tracks. I just blow up and end up walking. Though I know this is an element that you train to get better at, I still think I should already be there. I give myself a hard time when my fitness stops me from doing something I want to do. I also get angry at my partner because I feel he is 'pushing', though generally I'm projecting this; it's me pushing myself and getting angry with me. So I angrily walked until we got to the ridge. From there I had a brief break and talked to my partner. I felt better after that and ran off across the ridge to his amusement.
We even ran the downhill track (yes, the 40% gradient) because we are both quite good at technical running. I was a dancer and have good balance and proprioceptive skills. Shanon was a mountaineer and he has loads of climbing skills. We just ate too much cake and beer over the last few years ;-) and can't get our engines to fire as well as before!
Once at the car we reviewed the run and decided that it wasn't as bad as we had though. It will be a challenge no doubt but the times for completion from last year indicate that we wouldn't be the last to arrive even if we ran it this weekend. With that knowledge and plenty of training months ahead we are going to focus on our hill running and see how much we can improve by 24 March.
It was a lovely way to spend our Monday. Kids at school, us out running while everyone else was at work. One benefit of working weekends!
The stats:
Hours: 2:45min
Length: 11K
Highest Point: 300m (1000 feet)
Vertical Gain: 650m (2000 feet)
Calories Burnt: 1685
65-75% Max HR: 1:15hrs
75-85% Max HR: 1hrs
Cost: $0 (Except lunch at Subway and gas)