***holy crap I am beginning to panic!***
Monday, November 26, 2012
I have 7 weeks until I am forced to order my wedding gown. I know that the gowns run 2-4 sizes larger. I get that. It doesn't change the fact that mentally and emotionally I cannot order a size 18 gown after working my ass off for six months to get away from that number. When I tried the dress on Sept 7th, that is the size they said I would have to order based on my measurements. I was 243 lbs. Today I am 228. I don't know whether that 15 lbs is going to get me into the 16 dress. So I am telling myself that I need to lose AT MINIMUM 10 lbs by January 15th. I know that sounds doable but the past two months my weight loss has been sporadic at best. I know what it is going to take the question is can I give that effort 6 days a week? I'm telling you, that HIIT training could help me drop 10 lbs in three weeks but I don't have the energy to do it that regularly. I would kill over! I would just hate to order an 18 dress and in the 4-5 months it takes to get here, have to have it taken in two sizes and pay double on alterations. I am officially in BRIDAL BEAST MODE. I need to tame the tummy, scult the arms, and refine my chest and collarbone.
This is me in the dress on Sept 7th. I was 15 pounds heavier
This is what the dress looks like on the model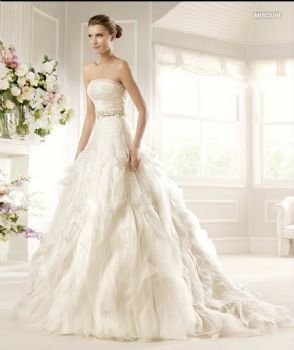 Of course, I do not aspire to look like this model because she looks extremely frail and hungry. However, I do intend to be under 200 lbs on my wedding day and if I can knock out these 10 lbs, I will be 19 pounds from that goal.
Wish me luck!