Monday, November 26, 2012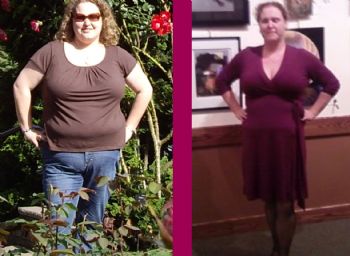 I didn't think that I had any "before" pictures of my weight loss, but yesterday I came across some that must have been taken within ten pounds of my highest weight—300. I put the two pictures side by just for comparison's sake…and wow! This is what 80-ish pounds of weight loss looks like.
I didn't realize that the change was so drastic because it has happened slowly over time. Apparently I like to stand with my hands on my hips…but my hips have moved!
The picture in the purple dress was taken at 220 pounds. I was having a bit of a wardrobe malfunction…that line across my belly is underwear and stockings slithering down at the end of a long night. Anyhow, I've lost a couple more pounds since then. As of today, I am 75% finished with my weight loss. 27 more pounds to go.
When I first saw the picture in the purple dress, I thought it was awful. I am a bit of a recovering perfectionist, and all I saw initially was fat rolls, bad hair and closed eyes. As I look at the picture more though, I realize that part of what I am perceiving as fat is actually my rib cage sticking out. It's strange how it takes a while for the way we see ourselves to catch up with reality.
I still have a long way to go, and at the rate I am losing it will be a while before I am done. I have five different metabolic disorders and it's just about impossible for me to lose weight…but I have not given up. I am feeling kind of proud of myself at the moment.