This is the fourth total solar eclipse I have watched. This is the first one since my husband died however.
I went to Australia with both my daughters, and one son in law. Its my elder daughters first trip abroad, and her first eclipse too, my younger daughter and her husband, came with us to eclipses in Libya, and China.
We were to watch the eclipse from Palm Cove, a beach just outside of Cairns. Dawn was at 4.30. So 3.45am sees us trotting off to the beach in the dark. The day was not started well by me turning my ankle on a tree root and sprawling full length! Accompianed by some rude words!
First contact, when the Sun starts to slide behind the Moon, was due to happen nine minutes after sunrise.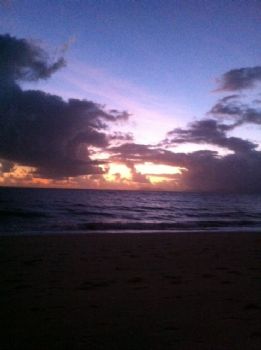 So the Sun breaks the horizon, as expected at 4.30, and seven minutes later disappears behind the only really dark cloud in the whole sky! And there it stays!
For the next 45 minutes we watch agonised. You can see the Suns rays under the cloud, you can see it's getting darker, but of the eclipse there's no sign. Further around the bay, they are in sunshine, they have a lovely view! We all sit watching the patch of sunlight as it creeps slowly towards us. I am almost suicidal, my daughters' only eclipse and we're missing it.
Then finally, ten minutes before second contact, totality, the patch of sunlight reaches us, and the Sun bursts into view. There is only a sliver left. Slowly, slowly it shrinks, until the last of the Suns rays are shining through the valleys on the Moon, Baileys Beads are with us.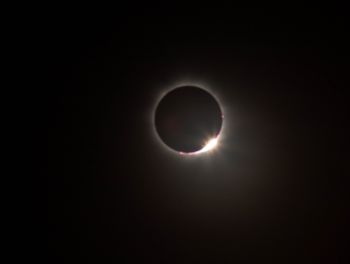 Then they are gone. The Moons shadow sweeps over us, and the solar corona springs into view. Purly white and iridescent. The rest of the landscape is dark, and Venus shines through a break in the clouds.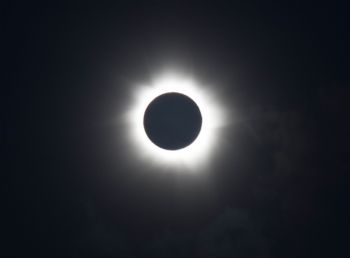 For two minutes and twenty seconds the world holds its breath. Then light starts to show at the top of the disc, and the diamond ring is suddenly in view, just as the clouds start to obscure the Sun again.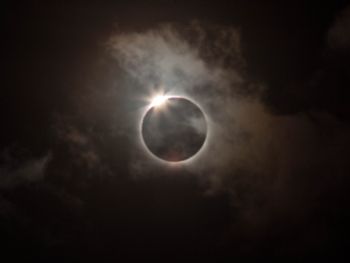 And it's over. Light floods back into the world. For the next 45 minutes the Sun will slowly emerge from behind the Moon, but already the clouds are back as we make our way back to our hotel. The next eclipse is visible from Svarlbad, in the Arctic circle in March 2015, I'm not sure if I'll go to that one, but I just might.