I am writing this blog in the hopes it will help others in my position – maybe give them hope – where I came close to losing mine– weird I may be but I am certain I am not the only one experiencing this effect.
Those of you who have been following my progress (and I thank you for your encouragement) will know that I have lost a lot of weight to date – but that the weight loss has stopped recently despite the fact I still have 25 – 30 kg (55lb – 66lb) to go– though I am still getting stronger and fitter and more flexible among many other things. I started this journey in 2002 –looking like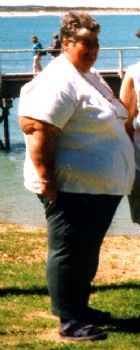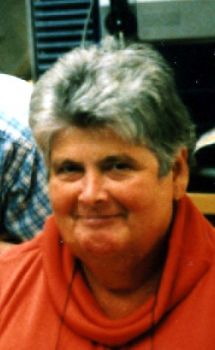 I didn't exercise until 2009 when I joined Sparkpeople – looking like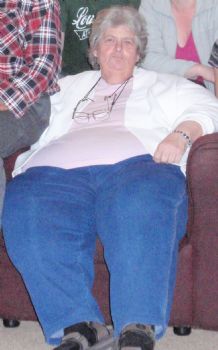 Even though I had lost 35kg (77lb)
Then I started exercise and things changed so I thought I might list most of the things that have changed for me during my journey so far:
- Thighs rub less
- Shoes are more comfortable
- Have moved down many clothes sizes
- Snore less (if you can hear yourself snore – LOL!!)
- Sleep better
- Have more energy
- Have more stamina
- More Flexibility
- Easier to breath
- Not as puffed
- That odd irritating dry cough and throat tickle has gone
- Legs, hips, ankles and knees ache less (only if I do too much)
- Everyday walking is easier
- Can prepare and cook a whole meal without sitting down
- Feel more confident in myself, and my body – and thus mix more with others.
- Developed an interest in how I look, dressing more carefully, wearing makeup etc
- Can wear normal sized necklaces that didn't go near fitting before
- Dressing each day – instead of slopping about in nightclothes all day
- Can sit on chairs with ease
- Can get out of bed without rolling
- No longer need an extension strap when flying
- Can fit in a single economy airline seat, instead of having to get 2 seats (and that saves a heap of money) however I still find having 2 economy seats is more comfortable for long haul flights – one seat doesn't give one any too much room!!
- Can slip rings on and off fingers easily
- Have taken watch strap in a couple of holes
- Can wear necklaces and even a choker ribbon – instead of having a triple chin
- Feel good about what I am doing – (about my weight loss, efforts, the future and life in general)
- No more high blood pressure
- Diabetes (type 2) has "disappeared" – off all meds (remember that it can reoccur – you need monitoring all your life!!) A1C - 5
- Can buy normal size clothes off the rack
- Can wipe backside
- Can do shoes up
- Can bend over and touch toes
- Can wrap towel round waist and tuck ends together
- Going swimming at a public pool
- Skin looks clear and eyes bright and radiate good health
- More patience with people, more willing to look for ways to solve problems
- Tolerating heat and humidity better
- Balance has improved substantially
- Capable of carrying and manoeuvring heavier, bulky things
- Stomach problems and indigestion have gone
- Bladder and bowels working "normally"
- Self-confidence is so high now
- I can feel firm muscle where there was soft floppy fat – particularly in my thighs
- Can get in and out of small, low cars – no struggling
Though these make my life more wonderful and easier they all pale into insignificance when I realise that: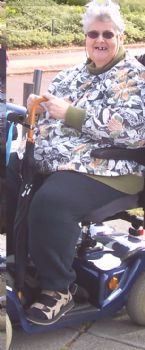 1 – before I lost the weight – I was using a scooter – I took a trip by train – had to have a person with me and book my scooter and use it almost completely on town I had 2 seats by myself and help when visiting the loo!! Also 2 people helping me on and off the train!! And we had to stay overnight because I wasn't strong enough to do the 5 hr each way trip in the day.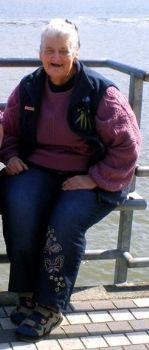 A year ago I went to Town by train – I was alone- I took a bus to the station then walked to the train and had a single seat, and did the return trip in the day – but more than that – I WAS ON MY FEET!!
Yes- I never even use a walking cane now!! I can go out shopping ALONE – I can go anywhere – alone – I have regained a lot of my independence!!
This to me is ALL IMPORTANT!!
And I had an examination at the hospital as they were getting ready to do knee replacements, (my knees are bone on bone, severe osteoarthritis and collapsed inward causing me to lose 2" in height – I had been listed as urgent!!) and the surgeon examined me –examined my knees –and asked what I had been doing – my answer – exercise – his answer – "I really don't think that at this point I can improve you by doing surgery!!"
I know I can never get rid of the damage but I am almost pain free and I can walk short distances –like round a shopping centre and recently I walked over 1 mile!! I am doing this by strengthening my leg muscles – and it HAS to be consistent – and I use machines to do this at Curves – it's a looooooog hard process but its proving possible!! How long it will last is anyone's guess – whether I will eventually need surgery –but the combo of weight loss and exercise is working for now and that's all I ask!!

Well – for the last few months I have been thinking that something weird is happening (I am sure you know those niggling feelings)– I have been moving more doing more – holding my own against the computer at Curves and swimming, my calories are within target and I am very careful about the food I eat, and drink heaps of water.
But my weight has RISEN!!
Last week I had a diabetic review – my A1C was down to 5 (it has been holding at 5.2 for at least 2 years now – no meds but its now dropped again to 5)
My cholesterol was 4.4 and my blood pressure – 120/60
Yet according to the Doctors scales – I had gained 10kg (22lb)
I contacted my dietician – he said "Wow, what a challenge you've got to deal with. The weight is a complex scenario isn't it. I agree weight gain through muscle mass is likely.
rather than using my machine (BIA), anthropometric measures (tape measure and fat callipers) are more consistent and well able to tell what the body is doing. I would suggest you
use the measurements to assess what is going on. don't trust Doctors scales, they rarely get them checked. i had one Doctor whose scales where 8kg from actual weights that I know of."
I went to Curves today – and we had a very careful body measurement session – results from last month to this month showed 12cm lost but 0.9kg gain
This was taken today – after a 35min Curves Circuit against the computer workout and a 30 min Zumba session – I was tired!!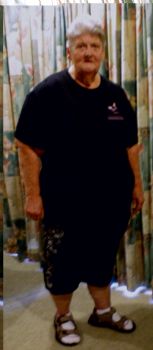 So we checked back – and over the time I have been going to Curves
I have lost 33.11cm,(13.0354331 inches)
my body fat % has dropped by 13.1%,
the weight of body fat I have lost is 12.94kg (28.46lb)-
Yet I have GAINED 3.9kg (8.5lb) total weight.
I gather this is fairly unusual – I can happen but normally not until a person is close to their ideal weight – which I am not – but we hope that one day my weight will actually decide to drop and the fat left to disappear!!
However it does show that – provided a person works hard (and I have been doing 2 days 75min and 1 day 35 min at Curves (strength as well as aerobic) 30 min a day swimming or chair exercise, and min 3000 steps a day if not more) it is possible to increase muscle and presumably change the fat to muscle even at my age (67) and that at least some of my previous strength, balance, mobility etc, etc is returning – so its never too late.
It also shows that one must never, ever give up – because changes do happen – and just not losing weight, even gaining a little – is NOTHING – compared to the other gains – despite what so many people (and my Doctor) love to tell you!!

NEVER EVER GIVE UP!! Your body knows what its doing - help it and trust it.