Tofurky Dinners
Sunday, November 25, 2012
Ah hah ha ha! Look what I made today: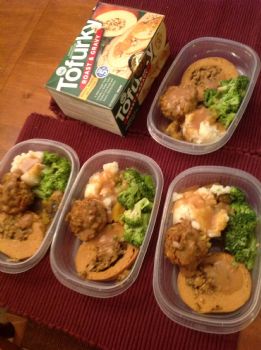 This was the first time I tried the Torfurky Roast. It is Excellent. Hubby liked it too although he also had some leftover meatloaf with his. I made up extra dinners and I will freeze them. This is cheaper than buying a lean cuisine of eating take-out if I do not feel like cooking.
I did a makeover of DANA-BANANA's stuffing muffins recipe here and used veggie stock.
As you can see, I had to do a makeover of my makeover!

I realized I needed a lot more veggie stock.
recipes.sparkpeople.com/
recipe-detail.asp?recipe=2
303064
Here is the original recipe:
recipes.sparkpeople.com/
recipe-detail.asp?recipe=2
3380