Festival of the Mountain Masters, 16 Mile Trail Race… This is a race I had waited for since 2008. This was a race I had finished dead last four years ago. I had finished so far behind everybody else, the bus took off before I got to the finish line. This is a race I had to conquer. The 16 miles over the mountain ridges and straight up the final mountain were hard miles to complete, and I planned to give it all I had.
My husband and I woke up at 3:55 Saturday morning for the 3 hr drive to the mountains. The race took place during hunting season, and I heard 2 gunshots in 2008. I dressed appropriately. I was colorful. No way was I going to be mistaken for a deer.
It was cold that morning. The temperature started at 30° and dropped as the sun came up. It got down into the low 20s. In the Appalachian mountains, the sunshine has to be piped in. It doesn't warm up quickly.
We arrived at the staging area, and I picked up my race packet. It felt heavy. I looked inside the packet, and there was my packet from last year. I was registered to run last year, but a raging case of plantar fasciitis sidelined me. It was nice to get the packet from last year. I pinned on my bib, and I got on the bus to head to the start line. My husband drove to the finish line to wait for me.
The bus was full of people ready to run. Some had run the race before, others had not. The race director made a few announcements, and joked that the bears had already been fed. Just in case, though, he said to run faster than anyone you're with, and you'd be okay. I knew I'd be in trouble, because I would be running alone most of the race. The only other person I knew at the race was Linda, and she is young and super fast. She came in second woman overall. I was a prime candidate for bear food.
The bus ride was scary. That bus driver had some seriously mad bus driving skills. Managing the hairpin curves while going uphill surely was no easy task. I was thankful when we finally arrived.
The bus stopped at the entrance to the Little Shepherd Trail, and we all piled out. We had 10 minutes to find a spot in the woods to do our business, and then we were off. I was jealous of the men's ability to find any spot to use. It's not so easy for women. I decided to hold it.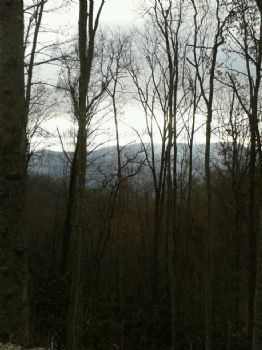 (view from the start of the race)
The horn sounded, and we took off. The first four miles or so were uphill. I was keeping a good pace. I was not last. I passed a few people. I stopped at the water stop, and then continued on my way. I was doing well. We were spread out by then, and there was nobody around me for a quarter mile either direction. I really had to pee. Finally around mile 7 I found a sort of secluded spot. You're not a trail runner unless you pee in the woods at some point. I was back on the road within a minute, and still keeping a good pace. Until I fell. At about 7 ½ miles as I was headed downhill, I tripped over something. I don't know what it was. There was a thick bed of leaves and I couldn't tell what was underneath it. Maybe it was a rock, maybe it was a limb. It didn't matter. Down I went on my left side. I broke my glasses. Great. I sat up and assessed my damages. My knees hurt, my left elbow hurt, and my head hurt near my left eye where my glasses broke. Fortunately, it was only the frame, and not the lenses. I got up and kept running.
The 8 mile water stop was just ahead. I needed the break, so I chatted a minute with the man at the waterstop. I didn't want to stay too long, though, because there were two women coming up behind me who were not there before my fall. I had passed them in mile 3, and I didn't want them to catch up. Unfortunately, I couldn't see very well, and I felt very disoriented. I had to slow down. Those women overtook me in mile 10.
I kept on running. At that point I wanted to come down off the ridges so I could get to the next big mountain and just quit running. I felt very weird without my glasses, and I had to be extremely careful with my footing. I finally got down off the ridges, ran down the highway a bit, and then turned into the park. That was the start of a horrendous climb straight up the mountain. While the other hills in the race had all been up and down, and the climbs had been broken up by some intermittent downhill areas, this mountain offered no reprieve. Straight up for a couple of miles. It was horrible!! I slowed to a walk. I had some craisins (cranberry raisins) with me, and I pulled them out and shoved a handful in my mouth. I found them really comforting at that point. Then I worried about bears. What if a bear smelled my craisins and wanted them? I'd definitely give my craisins to a bear, but then what? Do I lie down and play dead? Do I try to run as fast as I can up that monster hill? What if I fell over the edge of the mountain? I was glad I have really seriously good survival skills. I could live in the woods forever if I had to. And I was dressed warmly. I was prepared for a bear attack. I kept shoving the craisins in my mouth, a handful at a time.
Finally I got to the top of the hill. The views along the way had been so amazing, and the beauty of the trail was not lost on me, even with my glasses broken. I came to an overlook. It seemed foggy and fuzzy, and I wondered if it was because I wasn't wearing my glasses. It was amazing. I stopped to take a picture.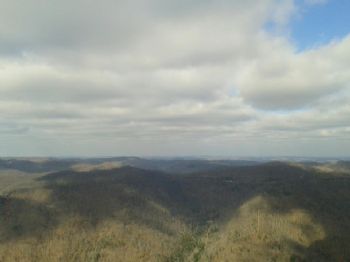 (view from the top)
I didn't stop for long. I was about mile 14, and I didn't have much more to go. It was mostly downhill from there. Suddenly at mile 15 a man and woman passed me. Where did they come from?? I had passed them at mile 2, and never saw them after that! I couldn't catch up. They finished about a minute ahead of me. Oh well. Good for them.
I finally crossed the finish line with a 20 minute course PR, and first in my age group. I was so, so glad to be done with that race!!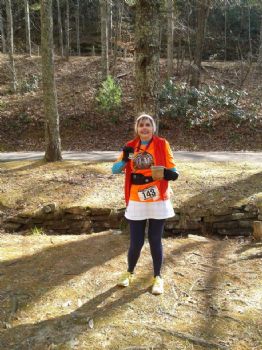 (dressed for visibility and warmth, with my finishers medal and my handcrafted cup/age group award)
I looked at my mile splits, and I could tell where I fell. The splits were clearly divided into pre-fall and post-fall. My pace slowed by 1.5-2 minutes per mile. Even with my fall and not being able to see, I still ran a good race. I'm happy. I'm sore. But I'm happy.