Have you noticed the barrage of TV and radio commercials for quick weight loss companies, products, and other possible scams? I certainly have and it got me to thinking. This thinking (always dangerous) raised a question.
This journey we all seem to share, is it a RACE or what?
I began to search for similarities between SP and an actual long distance race. Both start with a bang (that noisy starter's pistol) and we are off to the finish line. At the beginning, the pace is steady. However, as the end is in sight, the runners in a race always seem to find a kick, that extra burst of speed, and they sprint toward the finish line. In a real race the end is usually the fastest speed of the race. I don't think that really applies to us in SP or any other form of weight loss regimen and it shouldn't. Most of us have seen the results of really lowering our daily kcal intake. You know, that dreaded plateau that pushes that finish line further away.
I have observed that at least for me, it sometimes feels like time stands still as we near our goal and our success seems to grind to almost halt. In my case, this slow down raised doubts as to my ability to find and cross that ever elusive finish line. Please allow me to share a chart I have kept since the beginning of my personal SP journey. It is important to realize that my actual start weight was over 335 lb, my highest in the early 1980's.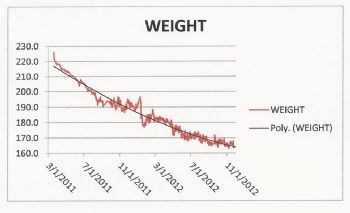 Easy to see how that curve shows quick results but really flattens as we progress. The poly trend line will eventually flatten our completely if the goal is kept. It also shows the effects of a severe anemia and associated water weight gain problem in January of this year. After 5 transfusions and lots of Furosemide, I dropped 15 lb of water over the three days.
And consider this about runners in a real race. When they cross the finish line, they can relax and not worry about their near future. NOT US. Our mission falls into the real tough phase --- MAINTENANCE!! Our journey never ends until we say so.
My conclusion, the tortoise had the right idea. Our Navy pilots are told to keep it low and slow. Seems to make sense for us as well.
Happy trails. See y'all at the maintenance bar where we will enjoy a low cal smoothie together.