I got to go over to Kevin's house to workout today. (Mobycarp).
www.sparkpeople.com/mypa
ge_public_journal_individu
al.asp?blog_id=5143708
I was pretty excited about it since I was really wanting to get a feel for the heavier kettlebells. I can't get anything over 25 lbs where I am at unless I order them online and that can be a crapshoot. As expensive as it is to ship something that weighs that much, I don't want to be ordering a bunch just as an experiment. I stopped at a sporting goods store and they had some up to 60 pounds. I played with some the and felt the ones in the 45-55 lb range felt challenging for the swings, cleans, and squats. My 25 is just too light and I am doing tons of reps rather than heavy weight, few reps which is what I am wanting but I need to workout with them to really get a feel for it.
Kevin had a 35 and a 45 pound kettlebell along with a very complete set of dumbbells on a rack and barbells.
I did a short circuit since I had obligations but worked out for about an hour or so.
Kettlebell -started with 35 then quickly moved up to 45
-swings
-Cleans with squats
-Core twists with 5 and 10 barbell plates- seated in partial sit up position, feet off the ground balanced on my rear then twist with weight, arms extended. Pretty challenging to stay balanced and do them but I've gotten pretty decent at it...my core is getting stronger.
Dumbbell
-bench presses
-flys
-tricep extensions
It felt amazing to really push the heavier weight kettlebells.
What was even better is my overall habit change. It was tough to get in a workout while in the act of getting from one place to another but I did somewhat. However, as soon as I landed, I was immediately trying to establish a "beachhead" and get some sort of traction to keep my momentum and it came naturally, not forced or obligatory. I know this will sound strange but I wear my Road ID bracelet as a reminder. There is something about it that reminds me that I am not just anybody, I am an athlete in training and I have a vision, a goal, a new identification. To achieve my goal of my Half Ironman and ultimately, The Ironman, I need the daily focus. The war is won or lost, not in the epic moments, but in the daily decisions, at the dinner table, the moment in choose to workout or not to. Mentally, I am in that place and it feels good, feel natural. I don't want my old "normal", my new life is what I embrace with all of my heart and I will never go back to my weakness.
I am kinda ready to go back home now. Not that I don't want to see my family and I am certainly not anxious to go back to "the hole" (the mine), but I am starting to feel like a refugee rather than a guy on vacation and want to use the rest of my time off to enjoy an exercise routine without the distraction of work.
Here are some pics from my day yesterday with Kevin.. Not many...too busy getting it done to worry about pics but we got a couple anyway...
On my way over to Kevin's.... Not too bad for a car shot..LOVE my Livestrong hoodie :)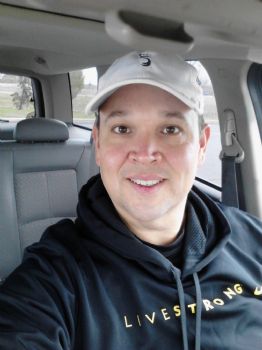 **kettlebells. 45 and 35 **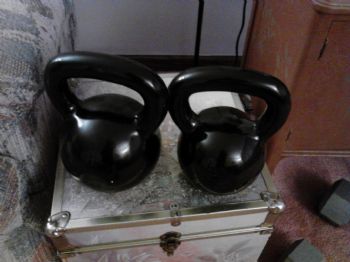 **Kevin doing weighted lunges **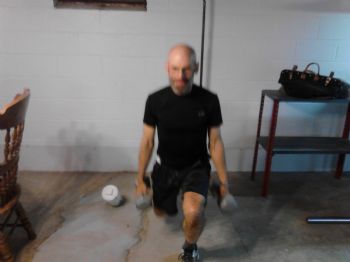 ** Me doing dumbbell bench presses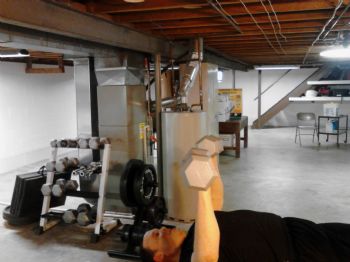 Make it EPIC....