Saturday, November 24, 2012
My boyfriend knows that I really really want to get this weight off. He knows I can do it, but that im in a rut. I am so mad at myself for gaining back 20 of the 70 I had lost!! He said to me lastnight.. "I was thinking in the shower about how I could help remotivate you.. and I thought about this.... I will pay you $3 for every pound you lose by the first of January up to 20 pounds. But.. if you can lost more than 20 pounds I will pay you $5 for every pound you lose, will that help?"
Ummm... YES!!! I don't know why, but money sure motivates me.. LMAO!!! I know its not even the amount of money.. its the challenge. I do so well when I have something to work at. When I have a friend that's losing weight with me I do so good.. we almost compete but in a friendly way. I HAVE to do better than her, but when they start slacking.. I start slacking.. the thrill of the competition isn't there, so I fizzle out. Now that I have this as my 'challenge' i am so on it!!
With whatever money I make off of him I will invest it into something related to fitness.. a peice of equiptment or workout dvds.. something like that.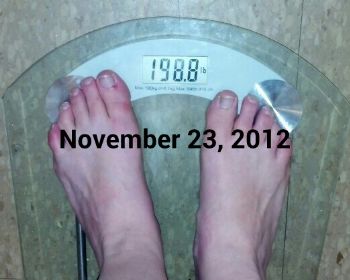 so this is my starting weight for the competition.. As soon as he and I agreed I hopped on the treadmill and started walking. Im already planning out my calories and walking for today. He is so gonna pay me in January!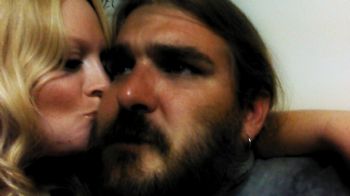 I do love that boy....