The Trip into the closet Neverland
Friday, November 23, 2012
Living in two states can be difficult for sure. The clothes that I have in New Orleans I know will fit . They are made of shorts,capris and jogging pants. All the best stretch clothes a fat bodies person could want. However my very real clothes are in Mississippi. Tucked back in the closet is my selection of Neverland clothes. No this is not where I keep my Tinkerbell outfits this is where all the clothes that I have bought over the years that didnt fit but I was to ashamed to take back are kept. Yesterday while I was getting dressed for dinner I went to the closet searching for something besides stretch clothes lol. I chose a pair of black dress capris I put them on, zipped, inner button and three out hooks , as i turned to reach a blouse the pants fell to the floor. Wow I thought !!! So i kept digging through the closet and finally found a pair of black velvet pants that actually fit alright although baggy the waist stayed in place. I found a top and finished dressing and walked out into the room and every turned and just looked. I said What ? and finally my husband said "it is amazing to see how different you are sometimes" and then everyone proceeded to hug me .
Later after everyone had left I went back into my closet and found it. That one pair of pants I have always wanted to wear not sure why but i did . When I bought the tag said 26 W L . I didnt pay it any attention till I got them home and tried them on that was not really my size . These were not stretch jeans they were real jeans with a button and zipper and well it was a good 12 or more inches between the button and closure. I cant remember where I bought them but I remember thinking "they lied about the size there is no way I am that much to big". That pair of pants has mocked me for about 5 years now. I vowed to throw them away but I just couldnt do it. I would walk into my closet and actually touch them but I just couldnt take trying them on again . This last July I tried them on and the space between button and closure had shrunk considerably it wasnt far enough. Last night I sat on the edge of my bed holding that pair of pants and thought should I or shouldnt I ? Well after thirty minutes I decided go ahead ... I stood up, pulled them up buttoned and zipped them and stared in the mirror. There is no Neverland left in my closet I can finally wear everything in there with the exception of half taht falls completely off me now.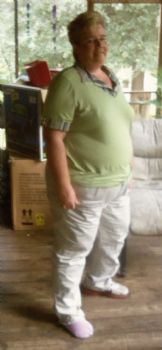 This is that pair of pants today. No stretch, no marks because they are to tight just a baggy pair of jeans . I also today got a new haircut and color. And it turned out wonderful .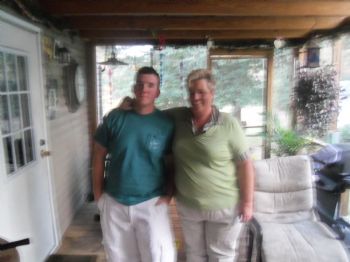 This is me and my son Chris .... Together since January 2012 we has lost a combined total of weight of 170 pounds and still going ... I am so very proud of him . I hope that everyone had as an awesome Thanksgiving as I did....