Wednesday, November 21, 2012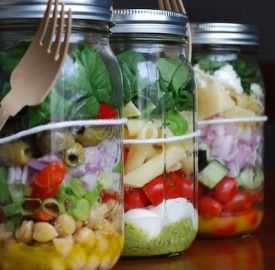 So I came across this idea on Pinterest and finally got around to doing it earlier this week. The idea is to make salads ahead of time—do a bunch of chopping once a week and have lunches or quick dinners fresh and ready for the whole week. You put the heavier things and the dressing on the bottom of a Mason jar and the lettuce/herbs/spinach on the top where they stay dry. Shake and serve when you are ready to eat. This idea works even better if you have plastic screw-on lids for your Mason jars.
I work online from home, so I don't have to pack a lunch, but I only get a 30 minute break, so I don't have time for tons of prep on days that I am working. If I do it ahead of time though, I am more likely to actually eat salad. I also like small, quick dinners at night after I work out, so this works for that too.
The original recipes are relatively diet friendly. The caprese would be a bit of a carb splurge since it has pasta…but if you made it with Barilla Plus it wouldn't be terribly bad for you once in a while. Plus if you make a complex salad with lots of ingredients, you really only have to enter it in the tracker once, then copy the whole meal for each day that you eat the same mix again. A quart of salad is really quite a lot—very filling and satisfying.
Here's the original post from Niki Lowry at The Daily Muse:
www.thedailymuse.com/hea
lth/the-best-new-way-to-br
ing-your-lunch/
Here's a pic of my first attempt at salad in a jar. I added tuna later, plus a splash of soy sauce. It ended up being a sort of Spanish-Japanese fusion, which sounds strange but was actually quite yummy. The last couple of days I've been working on a black bean salad with kind of a Cuban-esque dressing—low fat sour cream, rice vinegar and lime juice.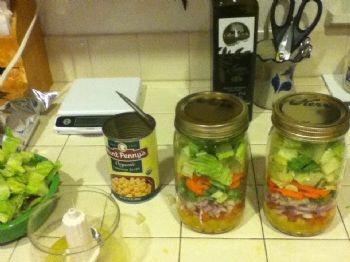 This is a great way to use all of the veggies in your fridge more efficiently. I've only done two versions so far…feel free to look at my tracker if you want to know exactly what I used.