A modest suggestion
Wednesday, November 21, 2012
With the holidays coming, charity toy drives are starting up. I think they're fantastic, but may I offer a simple suggestion?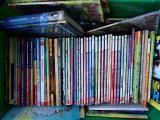 Books!
Reading is such a precious skill, and it's dwindling in this country. Kids (and adults, for that matter) are losing out on all the treasures hidden in books. I'm the last person to knock technology, but I'm not the only one who'd love to see the kids put down the electronics for a little while and pick up an actual book.
When we give toys to the toy drive, let's throw in a book or two. You'd be giving an invaluable gift -- the gift of literacy.