So tomorrow morning I am leaving for Puerto Rico. Yesterday was not the best day. My bf left for PR on Monday, but since teachers are in school through today I couldn't leave until Thurs morning. I was feeling a little crumby. Kids weren't terrible, but they weren't a joy to be around either. I was also seeing wonderful pictures he and his friends were posting up of all the fun things they are doing in PR (without me lol).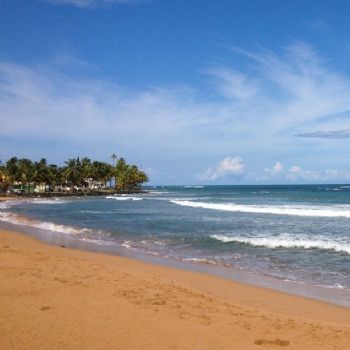 I feel like I am missing all of the action and by the time I finally get there from Thurs-Sat there won't be anything left for me. It also kind of sucks being alone without being able to hear from him or sleep with him. He is texting me a lot, but I was still kind of feeling down. Monday I had my first training session at Gold's and it was great. I decided yesterday to go to the gym too. It takes me around an hour and a half to get there after school (when I leave around 4). If I were to leave earlier it probably wouldn't take that long, but around the Baltimore area at that time traffic is terrible. I got to the gym and did the treadmill for a while. I needed to do laundry and pack, so I wasn't planning on staying for hours... but I am proud that I went and did something. I was also impressed that EVERYTIME I have gone into the gym (this was my 3rd time) the staff addresses me by name. The woman who signed me up saw me when she was talking to someone in the locker room and said, "Hi, Sara." She didn't have a computer where my name popped up and I wasn't wearing a name tag... she just remembered. Later when I was finishing on the treadmill she stopped by the machine and asked how my training session had gone. I was impressed. Of course if you act like you care about your members they are more likely to stick around, but still I was happy to see that they are making an effort to make me feel like a person and like I matter. It is still interesting to see how many incredibly buff and beautiful people are at this gym, but I think it's great. Watching the Raven's Cheerleader work out with the personal trainer in front of me is great motivation.
I got home, put in my laundry, and started to pack. Correction-- I attempted to pack. I didn't realize that my size had changed so much from the very end of Aug when I was in PR last. All of my summer clothes were XL's and all of my shorts were size 13 juniors. Now I am a medium shirt and a size 9 juniors. I know that I've been on the right path and it's been around 16 lbs lost since school started, but I didn't know that it was that big of a physical change.
Luckily, last weekend I found a jean skirt and 2 jean shorts from Pac Sun on sale that were in my size (they were all $6 each!). It was also cool because I've NEVER bought anything from Pac Sun. After stripping my closet and digging through everything I could find I was able to put together a few summery outfits. I was getting quite frustrated for a while, but I had to keep it in perspective that althought it sucks not having any clothes it would suck even worse to be that big again. Here are some of the things I came up with..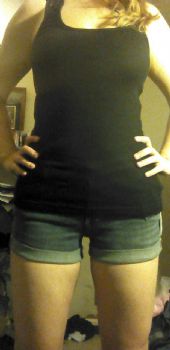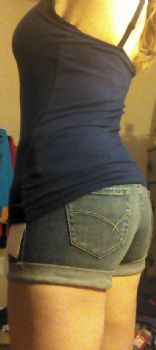 I am also really excited that a lot of people I know have been joining SP (and may even be reading this right now!). Two of them are friends from college that I haven't seen in quite a few years. They both hit me up on FB after I had been posting things about working out and posting skinny pics. The others are coworkers.
Overall, I am very excited to leave for PR tomorrow morning. This will be a huge test, since I won't be tracking my food. I think I am well equipped to make healthy choices and to stay on track towards my goals. See everyone in a few days:)