Tuesday, November 20, 2012
So my first training session at Gold's Gym went great. The trainer was awesome. He was very young... my height. Not super muscular. I could tell that if I were to complain I could've very easily manipulated him into not making me work hard, but I avoided temptation lol. I told him my focus was to learn about free weights, so we did a lot of that. I was very proud of myself for doing free weights during a busy gym time in the middle of 20+ super buff muscle guys! This is something I would've NEVER done before. I couldn't tell if the trainer kid was staring at my butt and chest to see if I was doing the exercises correctly or if he was just leering lol, but either way it made me work harder. hahaha. I can't wait to do my next session. I learned a lot of new exercises and could feel soreness right after the session.
I was happy to discover yesterday that ALL of my clothes from high school fit. However, I was sad to discover that they are no longer age appropriate. HAHAHA.

This is a gown that I had bought from goodwill like 4 years ago for around $5 and it was my "maybe one day" dress. On the tag it says a size 7. I am guessing that is in juniors since women's sizes are even (correct??). Last time I was at a store trying things on I was a size 6 womens and a size 9 juniors, so who knows.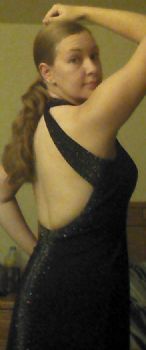 My school system makes teachers and students go to school through tomorrow and only gives us Thurs and Fri off :( I am hoping that tomorrow goes quickly. I am getting on a plane very early Thurs morning for Puerto Rico. My boyfriend left yesterday and is already there. It is my goal to go back to the gym tonight and do some kind of workout and then do laundry and try to pack for my trip.