My daughter and I did the Color Run 5k this past weekend. I wanted to share a few pictures from the race: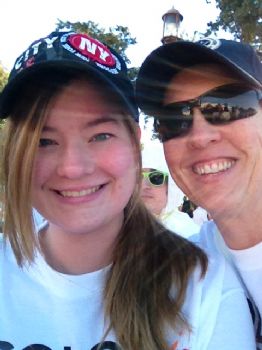 This was the first time we did this race and it was at the request of my daughter.
They have colored dust of some kind that they throw at you during four points of the race and most racers use the ones that come in the swag bag to put all over themselves.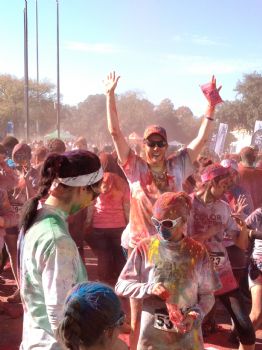 After the run there was a big crowd dancing to the music they had going. The race handlers were very good at getting a large party crowd going. When I saw this picture I realized that hey...sometimes I stand out in a crowd. :)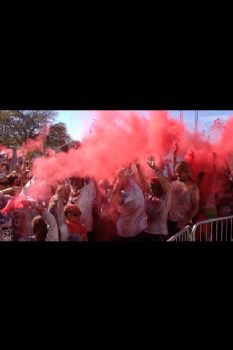 While they were playing music they would throw out bags of color and then they would do a countdown. Everyone would throw the dust up in the air and dance some more. My point here - not a good event if you have significant allergy problems. I took an allergy pill earlier that morning and when I left it was still bothering my chest some.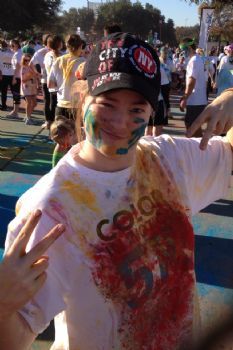 Rachael loved the race and I'm sure would do it again. After dancing in all the color you could go stand in line and have a lot of it blown of with leaf blowers. We were still covered in it.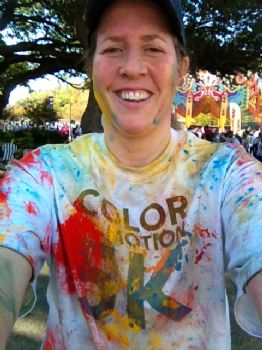 So here's what I'd say about this race:
Pros: it's a lot of fun, the weather was absolutely spectacular that day, and they have a great party environment. They started the racers in groups and if you had a stroller you had to start in the back - this means something to me since in two of my past races I literally have almost been tripped by being hit in the foot by someone with a stroller. The race staff really seemed to enjoy their job and tried to make it fun.
Cons: They had only one water station throughout the race and when I finished they had run out of water. There were a lot of racers with no water at the end so bring something if you attend one. They only had medics at the finish of the race - this ended up being important because right before we started the race something happened to someone and they were calling over the loud speaker for the medics to come. Their packet pickup place was not really convenient, had very bad parking, and was tiny for all the people that were coming to get their packets. That part of it seemed a little disorganized.
Tips: We took garbage bags to put over the seats in the car and I wore my old running shoes since I wouldn't care if the color came out or not. I wish we would have brought wet wipes to clean off our faces. We wore hats to help keep it out of our hair and I wished I had a bandana to cover my face during the parts of the race where color was flying. I was pulling up my tshirt but it had the stuff all over it so I felt like I was still breathing it in.
I'm anxiously awaiting a picture - they had a company taking action shots afterwards and Rachael and I posed for a picture. We held hands and jumped up in the air together and from what the photographer showed us, it looked like it turned out well. This was a memory for us - probably more for me - since she is a senior in highschool and will be moving away to college in the fall. She's applying to four colleges and two of them are not close :(
Next we are scheduled to do the Hot Chocolate run in February - another of her favorites. We did it last year and the chocolate after the race was amazing. Kind of made up for the fact that the wind chill was 19 degrees that day!