Tuesday, November 20, 2012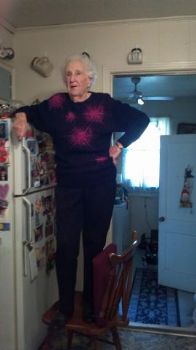 I've written so much about Aunt Juanita, my 91 year old Aunt, that I thought you might like to see her picture. She had the family over on Saturday for Thanksgiving dinner. While we were waiting for everyone to arrive, and while she was 'fiddling around' in the kitchen doing the finishing touches, we look, and see that she has climbed up in a chair and getting something out of the cabinet above the refrigerator. People began to get their cameras and phones to take her picture. Someone asks, "Aunt Juanita, What ARE you doing?" She said, "I am getting the silverware out of the this cabinet, and what ARE all of y'all doing?" Someone offered to get it for her, but by that time, she'd already gotten it. We offered to help her down from the chair, but she said, "I don't NEED any help!" So, you can see from her picture, and from her comments that she is very spry and SASSY! She's also pretty cute, too!
HAPPY THANKSGIVING TO ALL!
HUGS
Pam