The end of October marked a year of doing Jiu Jitsu. My journey of Jiu Jitsu started with taking a small chance by trying out 1 class. I kept showing up, trying my best, and worked through the frustrations of the long learning curve of learning a martial art. After a year, I feel like the moves are becoming more intuitive and flowing together naturally.
I won second place in my division at my first Jiu Jitsu tournament in June. Afterwards, I consistently told my coaches that I was going to win first place in my next tournament. Somewhere deep down I thought I could do it, but self-doubt kept bubbling up. Admittedly, I wanted to back out. I tweaked my shoulder last week, and I thought I found my excuse not to compete. But then, I found that I REALLY wanted to do it. I was anxious about it, but I wanted to be challenged. I also had kept envisioning that I was alone there, but then I remembered that several teammates would be there. I babied my shoulder for a couple of days and meditated the night before, focusing on the goal of winning.
I got to the tournament and one of my teammates was there. About 10 people showed up altogether. I went towards the beginning, which was good. I got the take downs and won both of my matches by getting submissions. If you're familiar with the moves, Rear Naked Choke the first match and an arm bar the second. I won the tournament over the other 7 women.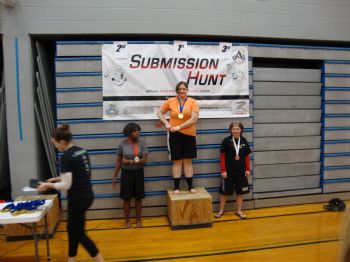 This picture is almost unreal to me. I never thought I would be standing on a podium claiming a gold medal!
And a few hours later (I'm in the purple sweater) with some of the guys, watching UFC (and having a little too much to drink

).
I have found myself through doing Jiu Jitsu. There is something transformative about the raw physical experience of grappling, and in practicing, my true self is emerging. Practicing Jiu Jitsu has taught me to boldly face my fears. The guys at my gym have been telling me since day 1 that they believe in me. Their words have slowly sunken in and helped uncover the champion in me. Winning the tournament was not crossing a goal line, it was a stepping stone. Winning just makes me want to train even harder, work on fine-tuning what I already know, and building up from there. It also made me feel more serious on focusing on losing weight steadily again. The first year was great, but he best is still yet to come.