Wow.....so much fun stuff to talk about!
First, let me say that I was going to back out of doing this race....I was so scared that I would suck at it! lol! Enough of that!
Our team was the pelophiles (organisms that thrive in mud).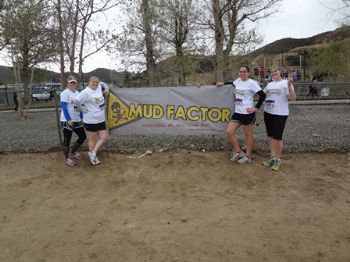 Our wave was at 11am and it started running right before..not that it mattered considering how wet everything was.
The race started with quite a few hills for about the first mile which included hiking through a wash, and going through some huge metal tubes. We had to crawl through a storm drain (pitch black with little space). Then there were a LOT of walls that we had to climb up and over. Some of the walls were ones we had to get over just using ropes, etc.
There were so many hills that were almost directly straight up. In fact, some of them were so steep that they had to tie ropes to the mountain so that we wouldn't fall over trying to go up them. There were several hills we had to figure out how to get down. One in particular was really tough...and many people ended up having ripped pants and bloody hands. There were huge puddles of mud that we had to wade through. One of the things we were looking forward to was a 50 foot mud slide into a mud pit. We had to hike about a quarter mile up a mountain to get to it and then waited in line for 30 minutes so we could go down. Oh my gosh, it hurt so bad! All of us ended up with bruised and scraped backs. It was pretty intense. After that things were harder because that marked the 2 mile mark. We had more hills to and walls to climb. One of the obstacles we had to come out of a mud pit and run up a steep wall to get over it. My teammates made it over. This was the only obstacle I didn't make it through. On the second try my shoulder dislocated slightly (this happensa lot since the accident) and I popped it back in and tried one more time and slid down the wall. I went around it because by that point there was a huge line and I just knew I wasn't going to be able to do it. Next was a huge hill with a rope (I believe this was the fourt one) and one of my teammates decided not to go up it and waited on the other end for us to come back down. One of the last parts was crawling through a mud pit...it was really intense but fun!
Needless to say, it was absolutely incredible. I felt like an athlete for doing it and I feel stronger. Of course, yesterday I was sore and today I'm still really sore so I'm going to take it easy at the gym, but it was well worth it. I highly suggest everyone do it! You feel so strong! I did NOT like the way I looked in the pictures aftewards (not even close to reflecting how I felt afterwards), but I know I"m a big girl and this will change slowly. At least I'm working on it.
It took 2 hours to finish....but a lot of that was waiting at obstacle courses for our turn and the event isn't a timed event for that reason. It was amazing! It was SO cold afterwards and my car is COVERED in mud! lol. I'm a tough mudder!!!!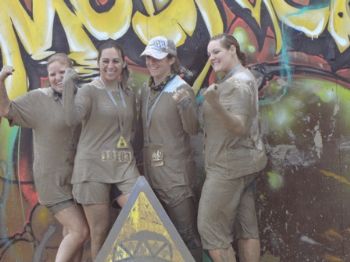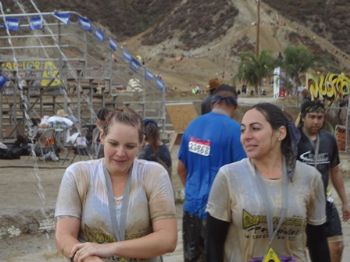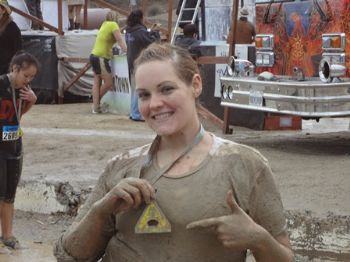 I went and got a pedicure afterwards and bought a new pair of running shoes. Brand new asics. I got a groupon for a running center and decided to go check it out. The guy had me run and picked out 11 shoes for me to try on. We tried all brands....it came down to a pair of Saucony and a pair of Asics (which are the brand I had previously but kept getting blisters from them). I ended up with Asics again which is interesting because I thought I didn't like them. He said he almost didn't pull a pair because of my bad experience but decided to try anyway. I'm very happy with them and excited to try them out on my walk on the treadmill today (no running or incline because I am still too sore).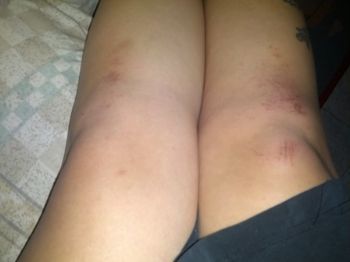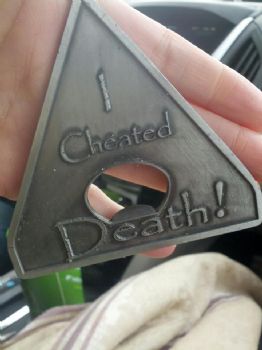 Old shoes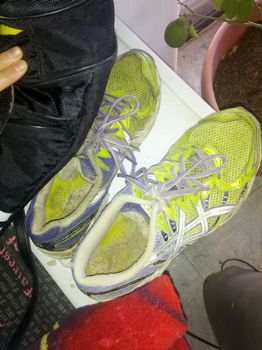 New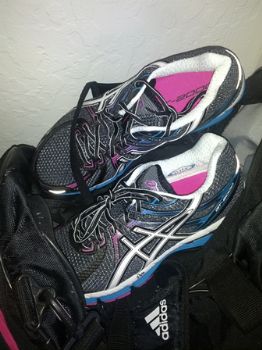 One of the reviews:
It was alot of fun. The course was great. The hills, the obstacles, the tunnels, the tractor tires, the water stations, the infamous slide everyone loved and hated afterwards , and of course the mud. Oh yea and the Dj played good music too.
Everyone is saying how sore they are and battered! One of my teammates isn't sore at all! She's pretty athletic though...I take comfort in the fact that tons of other mudders are sore also!
I actually heard of one lady that had to have 9 staples in her head because of the slide!!!!! I've read lots of stories on the facebook page for the event where people are limping and sore....it is FREAKING INTENSE!!!!!!!!!!!!!!!!!!!! But I loved it!