Not sure if you heard... Utah had 2 seizures again on Friday. It was exactly 1 month since the last episode. The different thing is that we were up Thursday night with him in bad shape.
It was like he was going to throw up a truck. It sounded terrible but repeatedly barely anything came up. The Friday came and he and a seizure at 9:10 and again at 3:10. I gave him the diazapam after each one.
Being the paranoid Mom that I am I was sitting on the kitchen floor as he slept with his head in my lap when the second seizure came.
Our goal is obviously...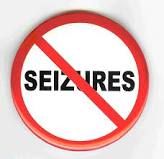 for at least a month.
It sounds like that is the key. The one doc I spoke with said, if they occur more than once a month we may want to consider upping his dosage but... it sounds like he is almost at the max dosage they like to give. We are obviously going to wait to up the dosage.
The other thing, I have noticed before but much more prevalent Friday was that it really, really seemed like he was seeing things...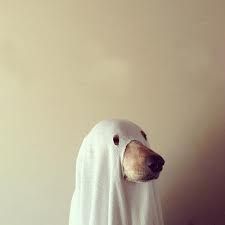 Well, not necessarily dog ghost but who knows. I always figured they were just images of Aspen or Kanyon and of course that I am a crazy person imagining things but...
It was so clear that he was seeing images, having hallucinations or something. Of course this makes me want to take him in to have a brain scan. Yes, the Neurologist said that this is VERY likely epilepsy since he is so young but I can't hep but wonder.
I will continue to sit tight and be thankful that it was only 2.
For the record...
- July 13 = 4 seizures (5:30AM, 11:30, 3:15 & 2AM)
- Sept 11 = 5 seizures (very bad, I was in France)
- Oct 16 = 2 seizures (4:25PM & then 3:30AM - 1st time using diazapam)
- Nov 16 - 2 seizures (9:10AM & 3:10)
No blindness that I could tell this time.
Thanks for listening

I should mention that I have not walked the pups or gotten on the treadmill for 2 weeks now. I was sick the 1 week then getting over it the second week, taking it easy then... the seizures. I hope to get back in a a bit of a routine this week but of course it is Thanksgiving and my man is off starting Wednesday. We'll see.
Another edit.... I should also add that Utah is still the very best thing that has happened to me since Aspen's passing (May 2011). I am truly blessed to have my boy.
This is a new favorite of my man and boy.