Happy Birthday to Me !
Sunday, November 18, 2012
My free breakfast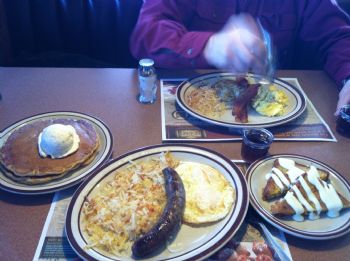 Today was the best birthday I think I have had. Hubby woke me up with the girls. My oldest watched the girls while hubby took me to Denny's for my free breakfast. I got the Hobbit breakfast. The lemon poppy seed French toast was wonderful. I had only 1 bite of the huge sausage it was ok. I had the yolks of the eggs, left the whites. I had 1bite of the pumpkin pancakes. I am not much of a pancake person. I did eat the hash browns though. After that he took me to the book store. I love the book store. He got me a Vegan planner and a gingerbread coffee. Then went to the craft store but they did not have what I wanted. Went to the library and dropped off books and picked out some new ones. Hubby picked out a few vegan cookbooks for me so he could cook. Stopped at the health store and picked up a few vegan protein shakes, some egg replacer, some soy ice cream and southwest veggie burgers and a few other things. Went home. Girls went to store and lunch with their grandma. I had a salmon dinner from the freezer. I had it from a while ago. I did not eat the salmon had a few bites and I gave it to the cats. I ate the rice and the broccoli. So I guess I am really not missing meat much at all. Went to bed early. Played bingo and going to watch some tv. I am all ready to start my lifestyle change tomorrow. This year is going to be the best year ever !