Sunday, November 18, 2012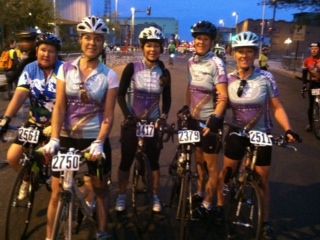 Here we are the Gila Chicas, just before the start of the 112 mile race. From left to right: myself, Christine Rickman, Ale Neves, Suzanne Thomas and Kimberlee Chase. We all finished (I will post times later), we had a blast, the weather was perfect, and I got the oportunity to meet a fellow spark people person and friend Bill. We all went out for dinner the evening before the race. Bill finished the race in a grand time as well and the weekend... was perfect!
Times wer: Ale- 6:56:04:50, me - 7:17:22:97, Suzanne-7:35:59:+, Christine-7:36:04+, and Kimberlee 8:11+.