I have some good news to report! Our colt that was born at our house last year is now a year old (actually 20 months old) and recently competed at the largest and most prestigious Paint Horse Show in the world. He is now owned by Magen Morriss who did all the training and showing with the colt, unlike so many others who show at that level, who only take the lead of the horse at the actual show, with the horse being kept and trained every day in a professional horse trainer's barn.
Magen and the palomino overo colt (Review R Fantasy or "Zero" for short) entered in the Amateur Longe Line Class which was held on Tuesday of last week, and then on Thursday she showed him in the Open "In Hand Trail class". We were able to be there and watch her show on Thursday. The Open classes are open to everyone, the professional trainers, and the amateurs. At the APHA World Show, there are 5 judges for each class. Each of these judges are usually professional trainers also, or at the very least are friends with all the professional trainers. So, as with everything, the Buddy System is very strong when it comes to who will win the class, or even place in the top ten.
Magen and Zero were the 9th to show in a class of 21 entries. Below are some pictures of her going over the obstacles with the colt: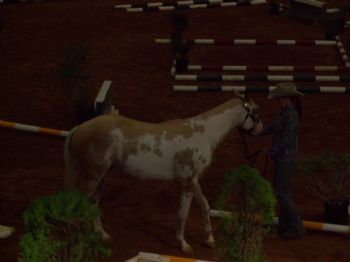 Backing in an L-Shape placed on the ground with logs, the horse cannot bump the logs with his feet..........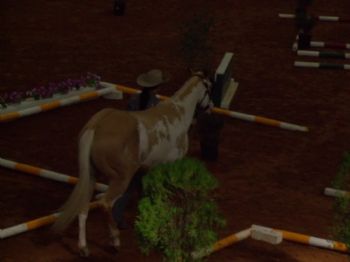 Heading toward a small box in which he has to turn around and again, not touch the logs: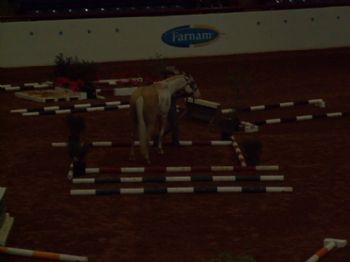 Zero and Magen execute a perfect 360 degree turn..........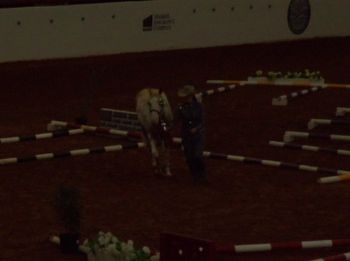 Heading to another obstacle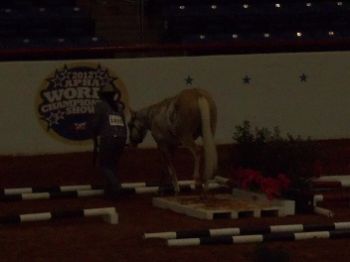 Crossing the wooden bridge, which is very difficult to teach a horse to do without hesitating.
Zero didn't hesitate a second!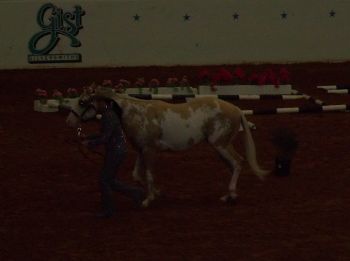 Heading to the final obstacle at a trot, he had to trot over 3 bars laying on the ground, one after the other, without touching any of the bars. He did perfectly!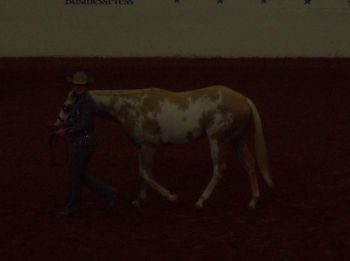 Leaving the arena after the class.......Zero and Magen had a near perfect run, her sister, Matt and I thought she was one of the top competitors. I have been showing horses for over 40 years so know what I am looking at, and so does Magen's sister, Mandi.
When the final placings were called out, Magen and Zero were not in the top 10. Even though she had one of the best runs of the day, she was not scored highly by the judges because she is basically unknown at this point in the Paint Horse World. She did, however, place as a finalist, 12th out of 21 in the class. So, we were pleased with the fact that she did such a great job and the colt did exactly as she asked! Magen was very pleased with Zero's performance.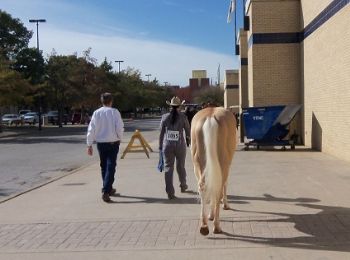 Matt, Magen, and Zero headed back to the stalls at the Will Roger's Complex in Fort Worth, where the World Show has been held for years.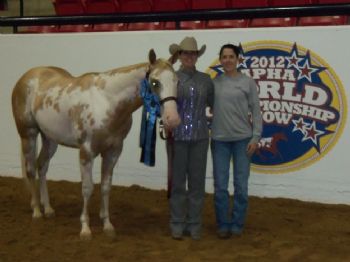 Of course, we had to have a "Win Picture!" That is Magen at the halter, and her sister Mandi at her side. Mandi served as chief groom for her sister. They have always been close, they are twins!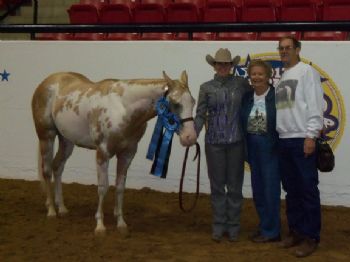 Mandi took this picture of Matt and me with Magen and Zero. No one was there to get his attention, so he went to sleep! Just shows how calm he is for a year old stallion!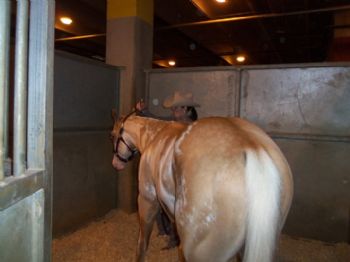 Back at the stall after a job well done!
He got a good rub down, a snack and a drink, and then, he was going home.
Review R Fantasy is sired by our stallion, Final Review, and out of a mare that we bred and raised: MCS Coeds Party Doll or Connie, as we called her. I also bred and raised Connie's mother, who is now 15 years old.
As breeders of a finalist, Matt and I had our names announced at the World Show along with posting them on the big screen overhead! We were very proud and happy that Magen did so well! Also, Final Review was announced as the sire, and Connie as the dam.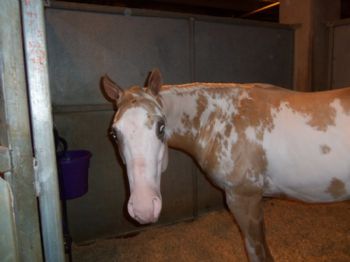 Good Bye, everyone! You will be hearing more about me!