This week I am thrilled to be working with the "Magical Messages from the Fairies Oracle Cards" by Doreen Virtue for the very first time!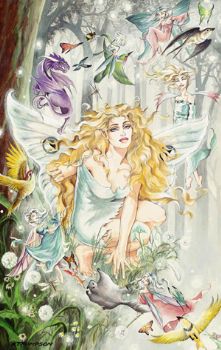 We begin this week with the "Spring" card which has the angels and fairies whispering, "Everything happens in the spring!" If you have some goal or project you have been working toward, this is a message that your efforts have not been wasted and that big things will start to happen this coming spring! The fairies advise us all to continue keeping our thoughts and words as positive as possible as we continue to work toward our goals. This card is also a message of "Spring Cleaning." The fairies are sending me the very clear impression that now would be an excellent time to focus on cleaning and de-cluttering our homes and work areas and detoxifying our lives by removing harsh or toxic chemicals, foods or situations from our lives. They say, "Things are about to begin moving very fast in your life. Take care of the small things now, because you may become overwhelmed if you put things off until later!" They also advise bringing fresh flowers or living plants into your home and work area as their gentle, healing vibrations will be especially uplifting and healing.
As we enter the middle of the week, we are sent the message, "Get some exercise!" The fairies say, "Exercise should be a form of self-care in your life, a way of loving and caring for your body. Stop looking at exercise as a way to punish yourself for overeating or as an activity you do to burn calories because this thinking only serves to disconnect you from your body and continues negative thought processes that cause you to view your body as the enemy. Exercise should be about joy - the joy of being IN and WITH your body." With this message in mind, the fairies recommend that you seek out 'joyful movement' throughout your day. This could be beginning a personal yoga practice or simply taking time throughout the day to stretch and move your body. It could be taking a dance class, running through the park with your dog or playing with your children. The fairies say, "When you stop viewing your body and exercise in terms of pounds gained or lost, calories consumed or burned, being 'good' or 'bad,' you free yourself to really love your Self and your body."
We end the week with the message, "Let go!" The fairies say, "The entire Universe is working together to fulfill your wishes, dreams, hopes and desires, but when you engage in fearful, worried thoughts and stress about the exact details of HOW you want your prayers to be answered, it blocks the flow of energy and prevents us from helping you! When you let go of this need to control everything, you release us and allow us to help you again." They continue, telling me that our fears and worries are really just our ego trying to convince us that we are less than we really are. They say, "Joy and laughter are the best defense you have against the ego. Whenever you feel yourself falling into fearful, worried thought patterns, find a way to embrace joy and laughter instead. Literally 'laugh off' your ego and send those fearful thoughts into the light for transmutation!"